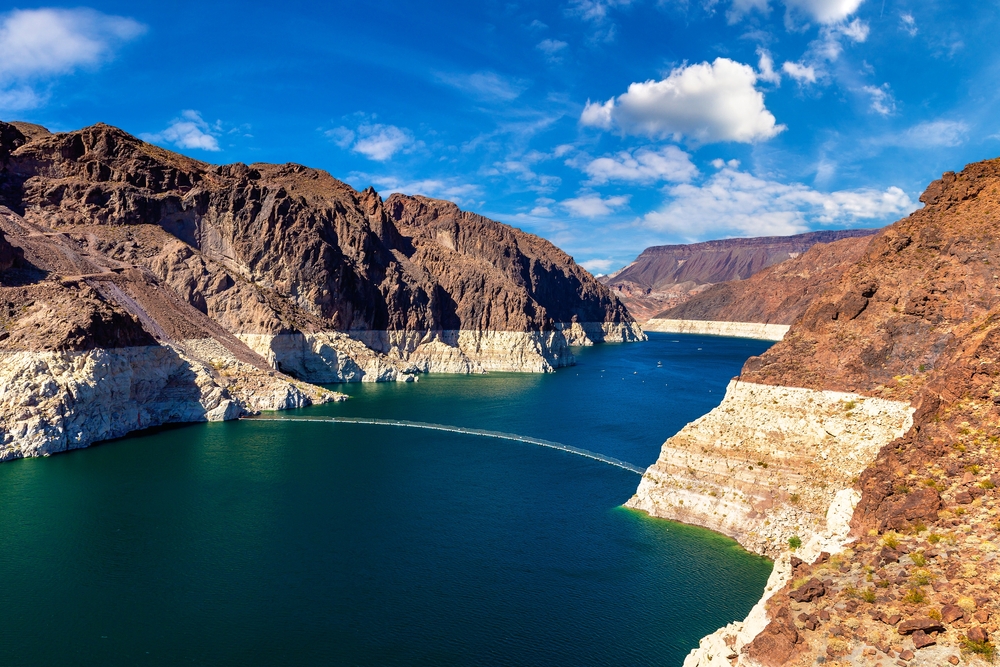 Do you want to go fishing in Lake Mead, but you're unsure where to start or have questions you just can't find answers to?
If you're going to Lake Mead, you should most definitely plan on doing some fishing. It's a popular activity for people to do out on the water. The waters here are rich with potential and host a diverse population of fish.
Continue reading to find out all about Fishing in Lake Mead, the different kinds of fish found in Mead, and what you may need in order to catch one, especially trout.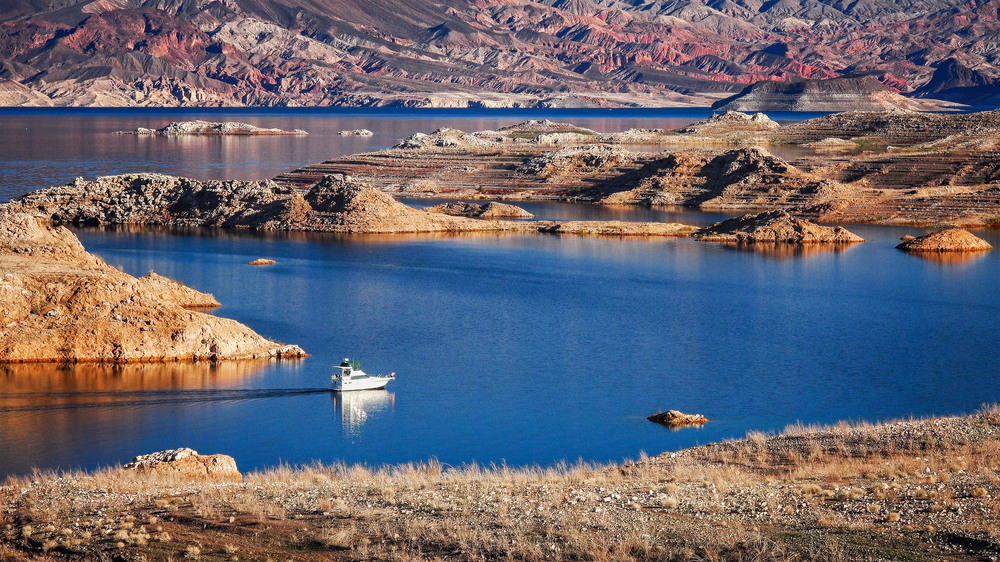 About Lake Mead
About 30 miles east of Las Vegas, you'll find Lake Mead, a sizable reservoir straddling the Nevada–Arizona border. The lake was formed when the world-famous Hoover Dam on the Colorado River was built, and it is now a National Recreation Area.
There are four main basins in the Lake Mead system, each with its own set of smaller reservoirs, canyons, and waterways. One of the largest reservoirs in the United States, Lake Mead receives the majority of its water from the Colorado River and boasts more than 550 miles of shoreline.
With its massive storage capacity, it easily beats out any other American reservoir. The water that drains from Lake Mead into Arizona, California, and Nevada, as well as parts of Mexico, is vital to the economies of those states as well as wide expanses of agricultural land. Nearly 20 million people are reliant on this water.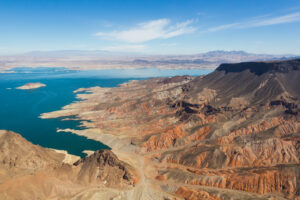 Is a License Required to go Fishing in Lake Mead?
While fishing in Lake Mead, there are a few rules you must follow. It's crucial to understand that the park spans the border between two states. When it comes to fishing in the waterways, each state has its own set of rules.
A valid license from either Nevada or Arizona is required under any and all circumstances for anyone planning to fish in the lake. You need a "use stamp" from Nevada if you have an Arizona fishing license and intend on boat fishing on Lake Mead or the Nevada shoreline.
If you want to fish for trout, you'll need an additional trout stamp. These are widely available for purchase at various marinas and in some of the local stores. Interestingly, children below the age of 14 do not need a fishing license to enjoy Nevada and Arizona's Lakes Mead.
Limits
Nevada
Having a "Second Rod Stamp" in addition to a fishing license allows a person to have a secondary set of fishing equipment. On a single line, you may only use a maximum of 3 fly or baited types of hooks, or 2 plugs or lures.
Arizona
After purchasing a stamp, an angler can use two poles at once. A maximum of 2 hooks,  2 artificial flies, or 2 lures are allowed per line.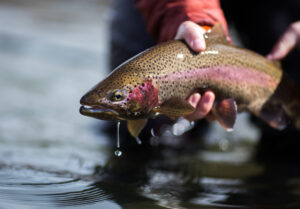 Where Can I Go Fishing in Lake Mead?
The park system features numerous fishing spots. There are some fantastic spots for pier anglers to cast a line, such as
Fishing from the Hemenway Pier, which is located north of the Hemenway Launch Ramp and close to Boulder Beach.
Willow Beach Marina and Fishing Pier is located on Lake Mohave, to the north of the Willow Beach Fishing Pier.
Conveniently located close to Katherine Landing Marina is the Katherine Landing Fishing Pier (as of March 2020, repairs were still needed).
Naturally, many anglers here either hire a boat for the day or use their own vessel. You can catch more of the best fish in the area if you take your fishing out on the water. 
Is There A Fee for Fishing in Lake Mead?
A fee is required to enter and use the lake at Lake Mead's National Recreation Area. Entrance to Lake Mead requires a pass, which can be purchased either at one of our entry locations or online. The option to print out a form and send it in for your pass purchase is also available.
Passes can be used to cover the cost of a private vehicle's entire Lake Mead entrance fee if the pass's holder is present in the vehicle.
Only in limited circumstances (such as those involving commercial or group entry, or entry by a person who is not in a motorized vehicle) are individual admission fees required (walking, biking, etc). If you and up to three other adults are planning on taking a stroll together, your pass will admit all of you. Under-16-year-old park visitors get in free.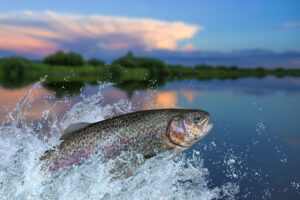 What is a Good Time to Fish at Lake Mead?
The National Recreation Area, that includes both the Lakes Mohave and Mead, is heavily reliant on the weather. The most pleasant weather for fishing can be found in the fall and spring, though you should be ready for scorching temperatures during the summer plus random spring storms.
As long as you aren't staying on the lake during the windy days of winter, it's a beautiful season. Summers can be bearable for most of the visitors by staying in a number of motels and houseboats that are located next to the lake; needless to say, find ones that are air-conditioned.
What Types of Trout are Found in Lake Mead?
Predominantly, rainbow trout are found in Lake Mead. Many anglers prefer rainbow trout to other species because of the fish's delicious pink flesh, striking appearance, and tenacity.
The fact that it can be enticed to take flies, as well as other baits and lures, makes it popular among fly fishermen. Small animals like insects, fish, crustaceans, and worms make up the bulk of its diet. It's great for spectator sports and fine dining.
On a regular basis, the park service stocks Lake Mead with rainbow trout. Typically, this occurs on Fridays, just before the weekend crowds arrive.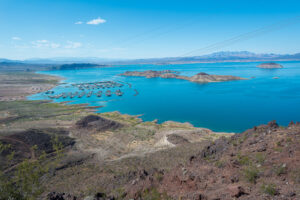 Tips to Catch a Rainbow Trout
Rainbow trout are found and fondly fished at Lake Mead. It is advised to use the following as bait when trying to fish a rainbow trout:
Moreover, in order to catch a rainbow trout specifically go where the water is clean and clear, and cast your line near rocky cliffs and outcrops. 
What Other Kinds of Fish do You Find in Lake Mead?
A variety of fishing options are available in Lake Mead National Recreation Area. It's likely that you'll be able to find a secluded fishing spot here, as there are 290 square miles of water surface to discover.
A striped bass caught in Lake Mead is sure to be a conversation starter. The largest of these can weigh in at 35–40 pounds. However, you can also catch other types of fish in this area. You can catch crappie, catfish, catfish, crappie, and even rainbow trout. Sunfish and striped bass are also possible.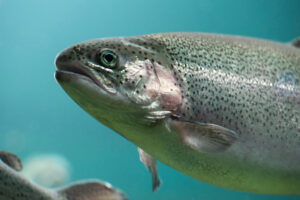 General Advice and Methods for Achieving success at Lake Mead
A few more details about fishing at Lake Mead are in order. These suggestions could help you maximize your fishing experience.
Lake Mead is open around the clock for boat-based fishing expeditions. Many people in this area believe that "the early bird catches the worm," or the world.
You can fish from the shore or one of three piers whenever you like. If you enjoy fishing, you should try fishing from both a boat and a pier, as each offers a unique experience.
There are 'no fishing' signs where it is allowed. Typically, this occurs near the dam's perimeter and the areas immediately below and above it. The flake wake buoys in and around the harbor and marinas are also off-limits to anglers.
After a successful fish catch, how are you planning on preparing any of it? The park service will even set you up with fish cleaning stations! You can find them in Willow Beach, Cottonwood Cove, Callville Bay, Hemenway Harbor, and Echo Bay.
The fish of the Colorado River System are among those that are legally protected in the United States. This is not a fishable item. If you do manage to reel in one of these fish, please release it immediately. You should also inform the National Park Service's Resource Management Office of your catch.
Recommended Gear
When going trout fishing, you don't necessarily need a long list of gadgets. You can go trout fishing just about anywhere with a rod and reel and some artificial bait, lures, bait hooks, bobbers, and other angling necessities. One possible initial list of items to purchase is:
A 6-foot light spinning or spin casting rod with a matching reel and 4 to 6 pounds of monofilament line.
Just a few spinners weighing 1/16 ounce
Set of eight bait hooks of various sizes
A few bobbers in red and white
Power Bait or Power Eggs in a jar
Case of split shot lead shot size #5.
Worms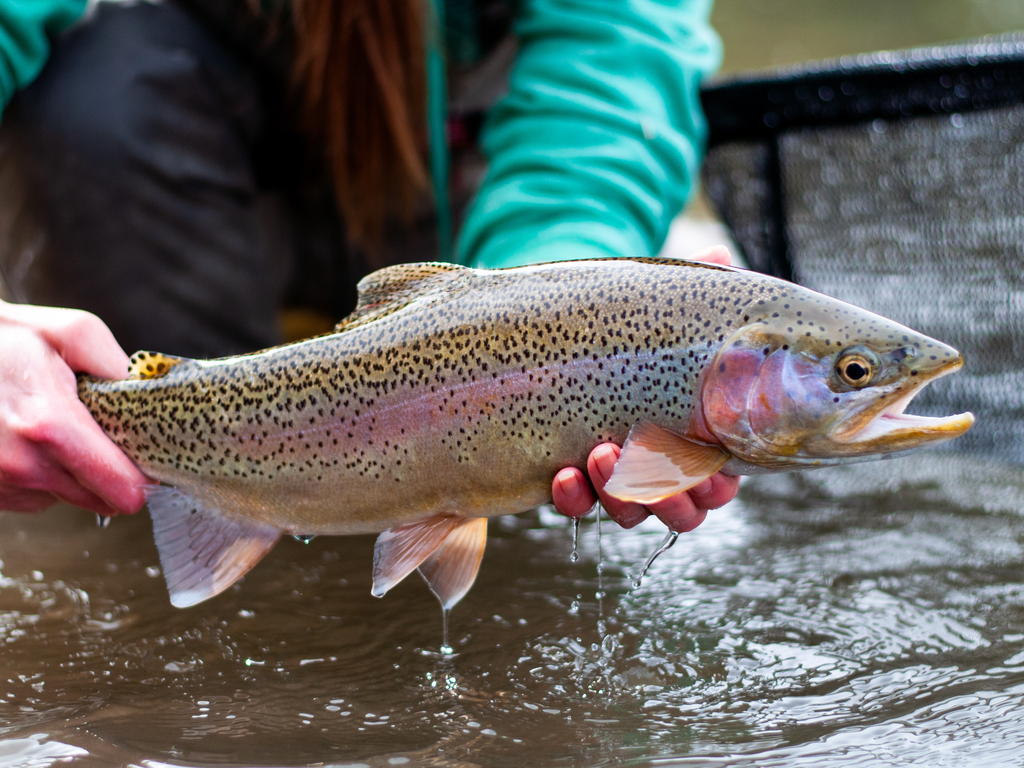 Final Thoughts
Now that you have your very own comprehensive guide to fishing in Lake Mead, we hope there is nothing stopping you from having this enjoyable experience. Just keep the above-mentioned things in mind and you will, sure enough, get your hands on a trout or two even without complicated gear.