Utah offers some picturesque places to fish and plays host to a variety of trout species to catch. There are amazing rivers, reservoirs, and lakes dotted around the state including some of the best trout fishing spots near Salt Lake City and Zion National Park.
In this ultimate guide to trout fishing in Utah, we will provide you with a map of all the places to fish for trout as well as a breakdown of all the best spots to fish. We will also review the different species of trout found in Utah, the regulations regarding fishing licenses, and trout fishing, in addition to some great places to ice fish in the wintertime.
Utah Trout Fishing Map
Best Fishing Spots in Utah
Utah offers a number of gorgeous fishing spots with abundant trout to catch. From rivers to reservoirs, the mountains to the outskirts of a national park, you can find the perfect spot to fish for trout no matter where you are in Utah. Check out our top picks for trout fishing in Utah below including the Green River, Flaming Gorge, Strawberry Reservoir, Provo River, Weber River, and the Uinta Mountains.
Green River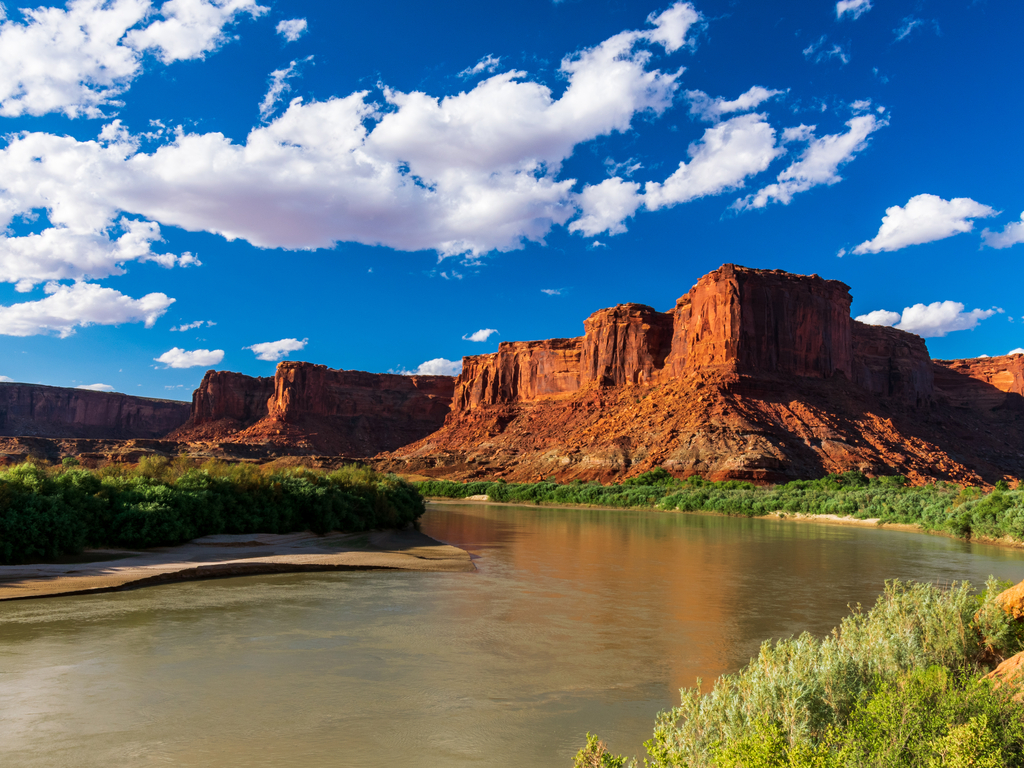 Located in the eastern part of Utah, Green River offers great trout fishing especially from brown trout which can average between 15 and 17 inches in length. The largest brown trout in the Green River, to date, weighed almost 30 pounds. The best place to access the river for fishing is just below the Flaming Gorge Dam.
Browns Park and Little Hole are also good access points. Fly fishing is the most popular trout fishing method on this river. Artificial lures and flies are the only valid bait. There are also special regulations on the Green River that restrict the daily bag limit to three trout with two measuring under fifteen inches and one measuring over twenty-two inches in length.
Flaming Gorge
Flaming Gorge is one of the most popular places to fish for trout in Utah. Family-friendly and attractive to anglers of every age and experience, the Flaming Gorge is located in the northeastern corner of the state and runs into Wyoming. All kinds of bait are welcome here and brown, lake, rainbow, and tiger trout are abundant in shallow waters.
In the springtime, bigger lake trout will migrate to the shallow waters as well to feed. Lake trout are not included in the four trout daily bag limit here. Up to twelve lake trout can be caught in a day with only one measuring over 28 inches in length. Flaming Gorge boasts the state record for largest rainbow, brown, and lake trout.
Strawberry Reservoir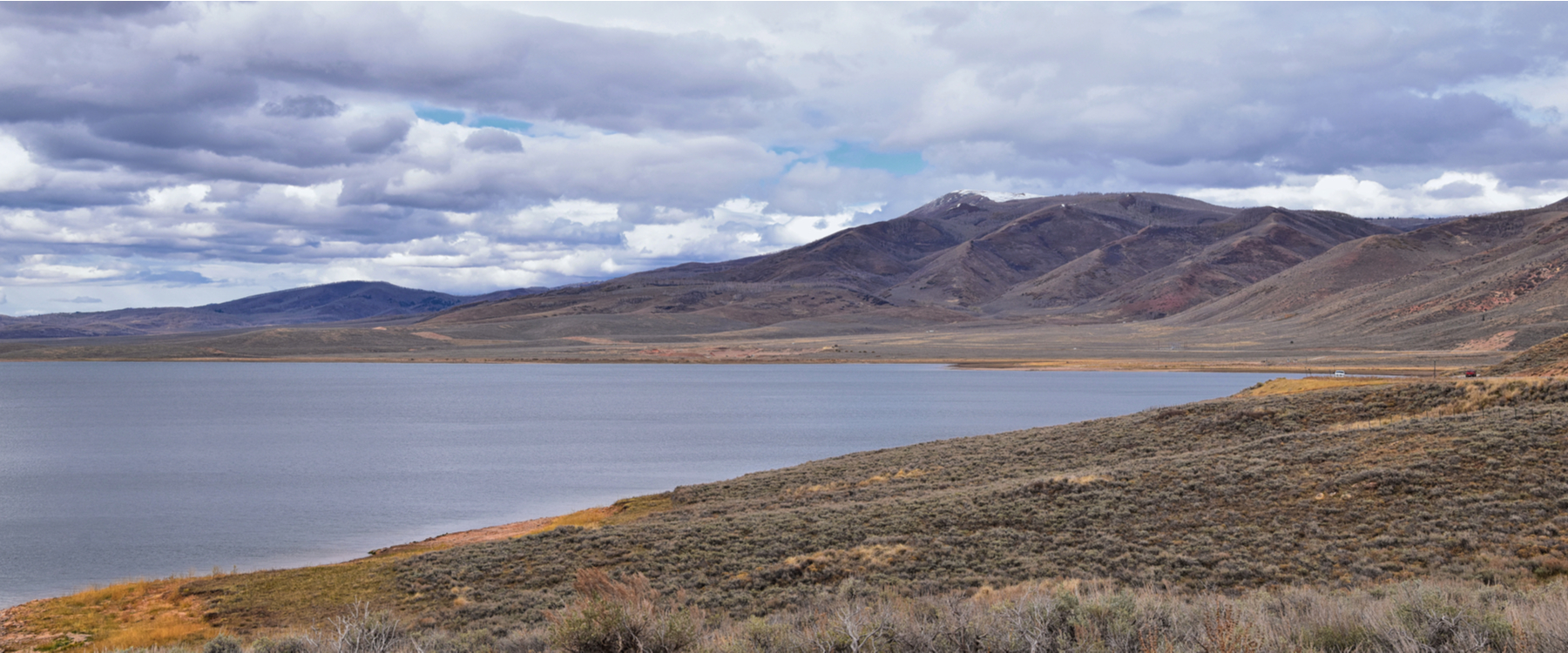 Strawberry Reservoir located southeast of Salt Lake City is home to the state record of the largest cutthroat trout caught back in 1930. Rainbow and cutthroat trout are in abundance in Strawberry Reservoir. The best time to fish here is in the fall and spring when the trout migrate to shallower waters for food.
Boat fishing is preferable to bank fishing because of the reservoir's deep waters where the trout like to hide especially when the waters are warm. While the statewide trout bag limit applies here, there are also further restrictions on cutthroat trout. Only three cutthroat trout are allowed to be harvested per day with only one measuring over twenty-two inches and two measuring under fifteen inches.
Provo River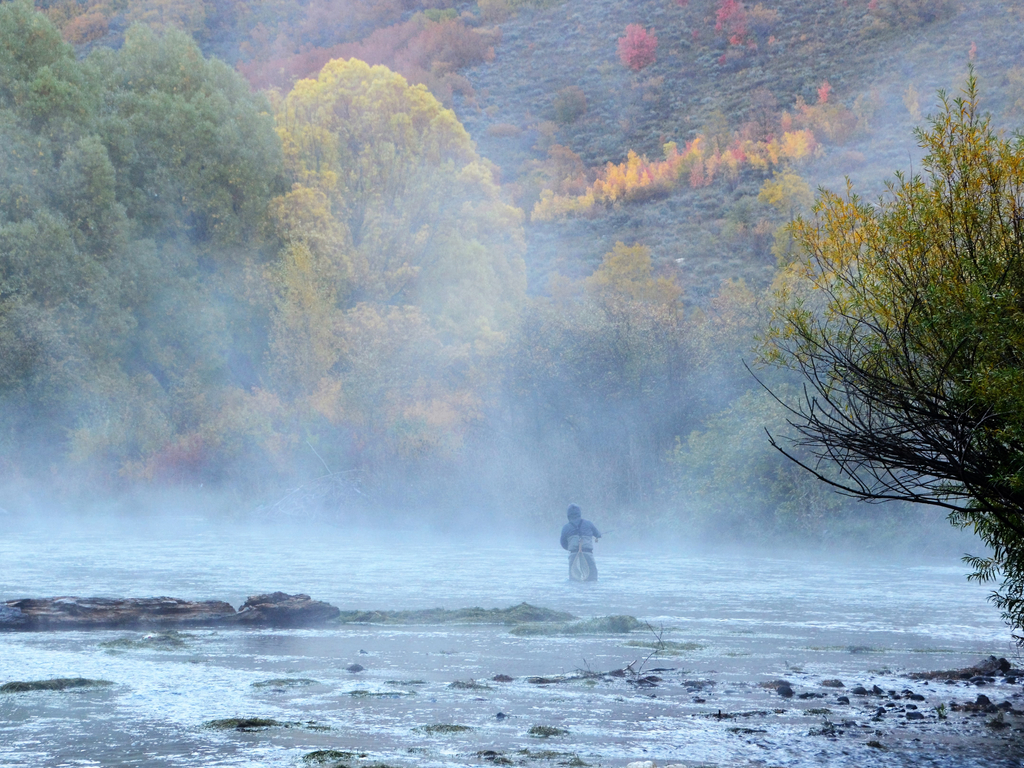 The Provo River is located about an hour outside of Salt Lake City and offers some of the best rainbow and brown trout fishing in the state. Stocked by one of Utah's blue-ribbon fisheries, the trout typically measure over eighteen inches in length and can be as abundant as 3000 fish per mile of the river.
There are certain restrictions when fishing for trout in the Provo River. Certain sections of the river have a trout limit of two measuring under fifteen inches in length. Another special regulation for a specific region of the Provo River is the prohibition of harvesting rainbow and cutthroat trout and their hybrids.
Weber River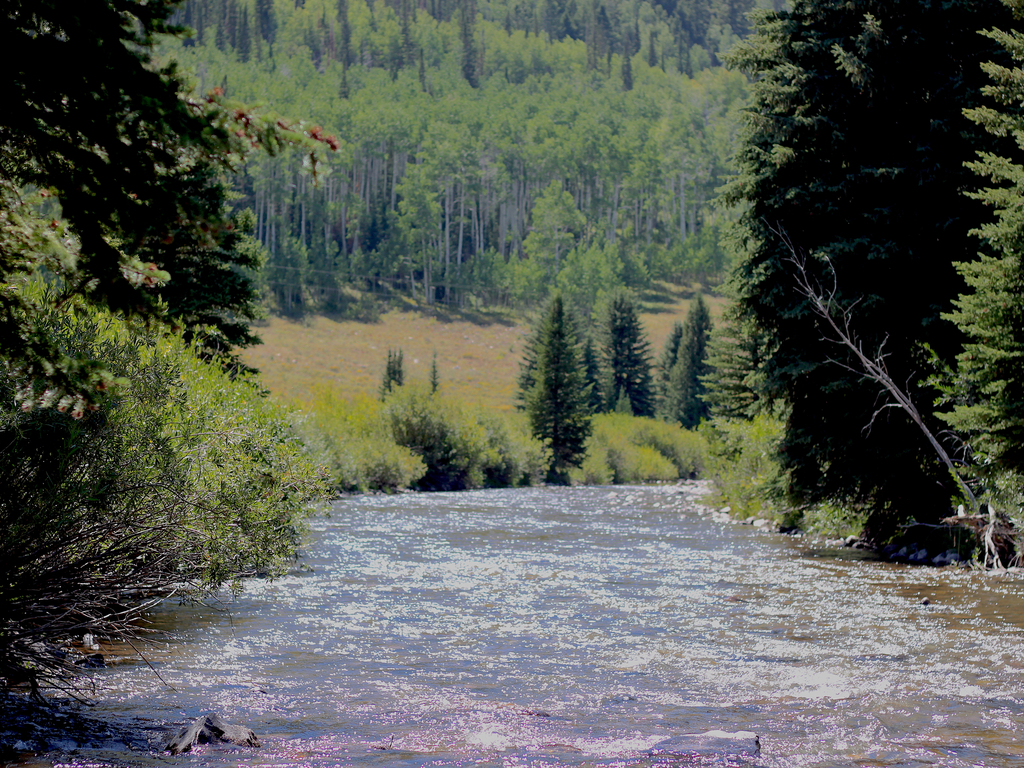 Due east of the Great Salt Lake lies the Weber River which boasts trophy-sized brown trout all year round. While most of the river is private property, there are walk-in access points that allow anglers to fish for any number of brook, brown, cutthroat, and rainbow trout. Some of the best access points include Spring Chicken and Creamery Lane.
The upper section of Weber River is more bountiful than the lower section. However, the lower section is where the larger fish live and may prove to be a good place to hook a prize winner. The trout limit in parts of the Weber River is two fish per day and in other parts, cutthroat trout are not allowed to be harvested.
Fishing in the Uinta Mountains
Tucked away in the northeastern corner of Utah, the Uinta Mountains offer beautiful scenery and great locations for trout fishing. Cutthroat and brook trout are especially popular throughout the lakes and streams of the mountains. Shingle Creek in particular is a favorite spot to hook these two species.
Tiger, rainbow and even a rare golden trout also populate the waters of the Uinta Mountains. Fly fishing is the best method for catching trout here as there are multiple scenic pullovers and places and wade into the rivers and streams. The total bag limit of trout is extended to eight fish per day if at least four of them are brook trout.
Fishing Near Zion National Park
While Zion National Park located in the southwestern corner of Utah has some great fishing spots, the reservoirs and lakes just outside of the park often provide better trout fishing opportunities. Some of the top spots to fish for trout surrounding Zion National Park include Panguitch Lake, Otter Creek Reservoir, Kolob Reservoir, and Navajo Lake.
Panguitch Lake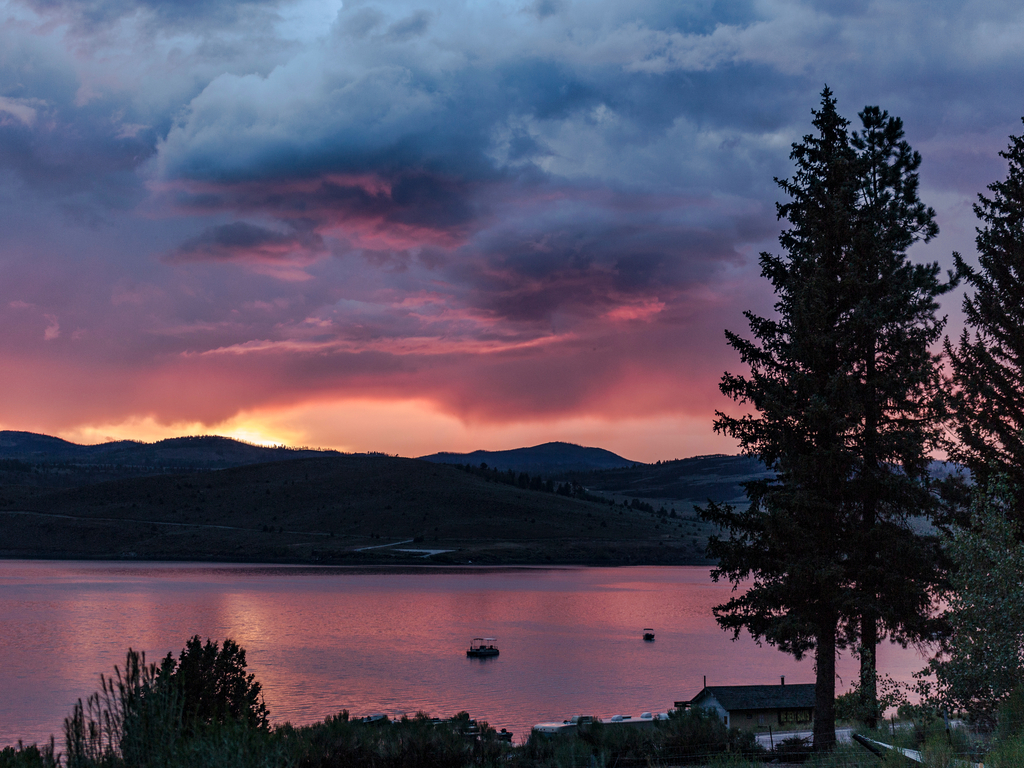 Panguitch Lake, located in the Dixie National Forest just northeast of Zion National Park, offers spectacular trout fishing with catches typically measuring between fourteen and twenty-four inches. All different methods of fishing are successful here including the use of live bait and artificial lures. Also, the common practices of fly fishing and ice fishing are also great options in Panguitch Lake.
Panguitch Lake adheres to the state trout limit of four fish per day but imposes an additional limit on cutthroat and tiger trout. Only three of those species combined may be caught per day with one measuring over twenty-two inches in length and two measuring under fifteen inches in length.
Otter Creek Reservoir
Otter Creek Reservoir located in the middle of the southern part of the state is one of the best places to fish for rainbow trout. Bait works great in this reservoir and the fish you are likely to catch usually weigh between four and eight pounds. Found here are cutthroat, brown, and tiger trout too.
Fishing from shore is the best in the fall and spring when the trout are feeding in the shallow waters. When the water temperature warms up, the trout go into deeper sections. This is where having a boat will be in your best favor.
Kolob Reservoir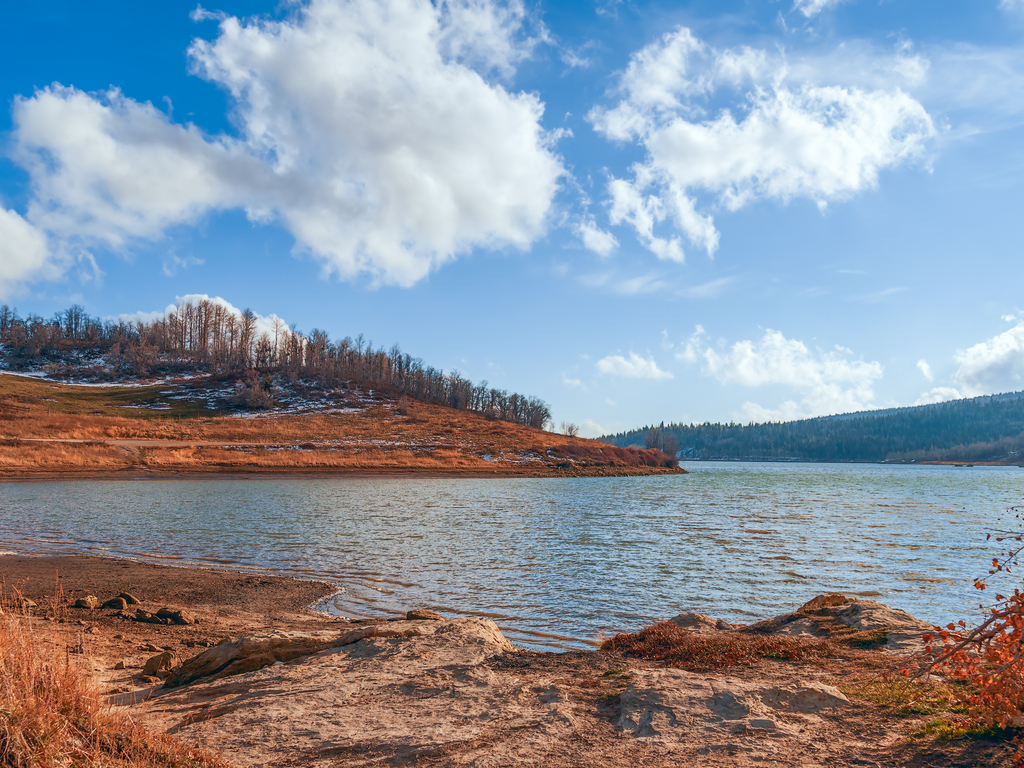 Located a mere ten minutes north of Zion National Park, Kolob Reservoir is a popular spot for fly fishing, bank fishing, and boat fishing. In abundance here are cutthroat and rainbow trout which are best fished with spinners and jigs. Jigging traditional bait off the bottom is also another useful fishing method used here to catch trout.
Artificial lures and flies are not allowed in the summer months and all trout within the protected slot length of fifteen to twenty-two inches must be released. The daily bag limit for trout in the Kolob Reservoir is restricted to two fish measuring outside of the protected slot length.
At the southern edge of Dixie National Forest lies Navajo Lake with some amazing trout fish to catch. The lake is stocked with brook and rainbow trout, but the real prize winners here are the hybrid splake trout. Splake trout of up to ten pounds have been found here.
The shore fishing here is spectacular especially along the east side of the lake. There are also two boat ramps for vessel access to the lake. There is a daily bag limit of four brook, splake, or tiger trout (combination total of any of these). To finish up, only one can measure over twenty-two inches in length.
Utah Trout Species
The five main species of trout found in Utah include brook, cutthroat, brown, lake, and rainbow trout. Golden trout, hybrid tiger trout, hybrid splake trout, and rare albino trout have also been caught in Utah waters, although they are not as common as the other five species.
Brook trout are the most abundant trout species in Utah, while brown trout can be difficult to find. Cutthroat trout are the only native trout species to Utah. The others have been introduced and continued to be stocked in Utah waters.
Is There Rainbow Trout in Utah?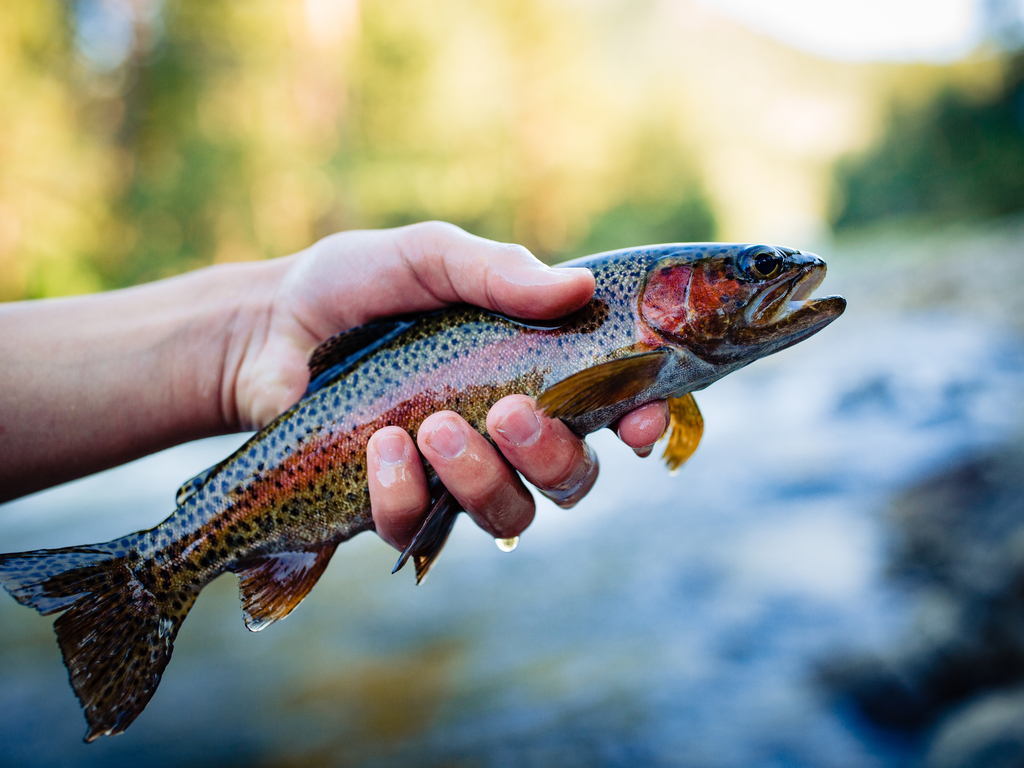 Utah does have an abundance of rainbow trout that reside in most of the larger lakes, streams, and reservoirs. They are especially found in the Wasatch range. Hatchery-raised rainbow trout are usually stocked in the fall and spring as they thrive better in colder waters.
The best places to find rainbow trout include Scofield Reservoir, Minersville Reservoir, Weber River, Panguitch Lake, Otter Creek Reservoir, Provo River, Flaming Gorge Reservoir, and Green River below the Flaming Gorge Dam.
Utah Fishing License
Any angler over the age of eleven, whether resident or non-resident, is required to possess a valid Utah fishing license while fishing in state waters. You can purchase fishing licenses from the Utah Division of Wildlife Resources or one of the many license vendors including Walmart and other sporting goods stores.
Utah fishing licenses can be purchased for a period of three days, seven days, or one year. The price of Utah fishing licenses depends on age and residence status. There are also discounts available for those with disabilities. Included in the table below is a breakdown of fishing license costs based on residency.
| | | |
| --- | --- | --- |
| License Type | Resident Price | Non-Resident Price |
| Three Day | $16 | $28 |
| Seven Day | $20 | $46 |
| Annual (ages 12 to 13) | $5 | $6 |
| Annual (ages 14 to 17) | $16 | $29 |
| Annual (ages 18 to 64) | $34 | $85 |
| Annual (ages 65+) | $25 | $85 |
For Wyoming residents who fish Flaming Gorge, which covers both Utah and Wyoming, they can purchase a reciprocal fishing license for $12.
Utah Trout Fishing Regulations
The daily bag limit for trout is four fish. This goes for a combination of any trout species, including Arctic grayling and kokanee salmon. For more trout limit information, check out our post. You cannot fillet trout caught from Scofield Reservoir, Panguitch Lake, Lost Creek Reservoir, and Strawberry Reservoir. Additionally, trout cannot be released if they've been held in a live-well or fish basket or held on a stringer.
Certain bodies of water also hold special regulations in addition to the statewide rules regarding trout fishing. Some of these restrict the daily trout bag limit to less than the statewide limit. But, others extend it to more than the general statewide limit. Since cutthroat trout are the only native species to Utah, there are specific waters that forbid their possession.
Some waters prohibit the use of artificial lures and bait. Others are closed to fishing altogether during certain times of the year. Be sure to check with the Utah Division of Wildlife Resources fishing guidelines. Here you can see if there are any special regulations regarding the body of water you plan on fishing in.
Where to Ice Fish in Utah  
Ice fishing for trout in the wintertime in Utah can be just as rewarding as fishing in the summer. There are a lot of great places to prize-winning trout especially lake, tiger, cutthroat, and rainbow trout through the ice. Some of the best areas include Scofield Reservoir, Mantua Reservoir, and East Canyon Reservoir. Other great areas are Rockport Reservoir, Deer Creek Reservoir, Fish Lake, Flaming Gorge Reservoir, Hyrum Reservoir, and Strawberry Reservoir.