The Ultimate Guide to Trout Fishing in Arkansas
A lot of people are surprised to learn that trout fishing in Arkansas offers some of the best trout fishing, not just in the country, but anywhere in the world.
It's not as well-known as much of a "trout hotspot" the way that Montana, Idaho, Colorado, or even Vermont are, but those in-the-know love and appreciate all the trout fishing in Arkansas that goes overlooked. Maybe it'll become you're new secret spot. 
If you've been thinking about making a trip to fish any of the more than 9000 miles of water across the state you're probably hoping for some tips and tricks.
We can help you out there!
In this detailed guide, we are going to run through (almost) everything you need to know about fishing for trout in Arkansas today.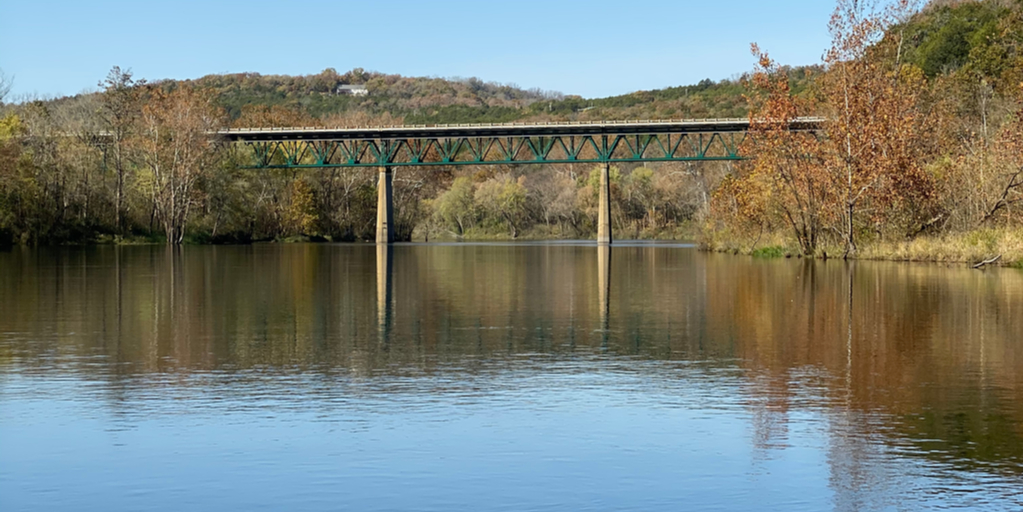 We will cover any of the special licenses and gear you might need, the kinds of trout fishing you'll find in Arkansas, and even highlight some of the best waters for you to throw a line into.
By the time you finish with this quick guide, you'll have a pretty good map of where and how to find some real river monsters the next time you go out for trout.
Let's get right into it, shall we?
Can You Trout Fish in Arkansas?
If you've been wondering whether or not it's even possible to fish for trout in the state of Arkansas you definitely aren't alone.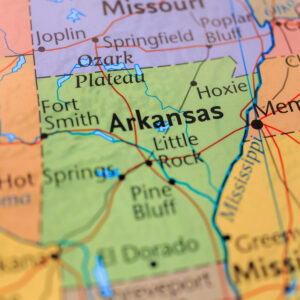 Arkansas, believe it or not, had almost no native trout whatsoever all the way up until 1960!
This is why it's sort of flies under the radar when people think about big trout fishing states, especially out in the western part of the country.
It wasn't until the 1960s that the Department of Fisheries in Arkansas decided to release stocked rainbow trout in rivers and lakes across the state. It didn't take long for these rainbows to grow into real monsters, and every year since trout are released into the waters of Arkansas in greater numbers.
The bottom line is this – not only will you be able to get into trout fishing pretty much anywhere you find water in the state, but you'll be able to get into some real world-class trout fishing as well because of how little-known this spot is outside of the angler community.
Do You Need a Special License to Trout Fish in Arkansas?
Like every other state in the US, you are going to need a fishing license to even think about throwing a baited line into a river, creek, stream, or lake in Arkansas today.
Fishing licenses are available for anyone 16 years of age or older, with the only exception being those that are younger than that and those that are fishing in licensed "put and take" pay lake waters.
But that's an entirely different animal altogether.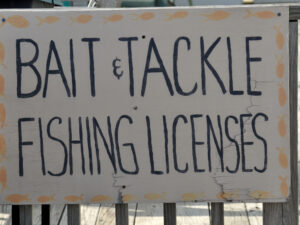 The overwhelming majority of people that are going to be doing bait and tackle or fly fishing for trout in Arkansas are going to need to get their hands on a resident, nonresident, or day pass license.
Resident fishing licenses in the state of Arkansas are going to set you back $10.50, with nonresident permits costing $50.
On top of that, you're going to need to get a trout permit if you're going to go after this kind of fish. Resident trout permits are another $10, with nonresident trout permits costing $20 per year.
Three-day and seven-day fishing permits are available as well, costing $16 and $25 respectively. If you want to fish for trout on those multi-day fishing permits in Arkansas, though, you'll still need to spring for that special trout permit.
Those that want to fish the White River Border Lakes are going to have to pay extra for permits to access that water, too. These permits cost the same whether you are a resident or a nonresident, coming in at $10 per year.
It's critically important that you square away all of your licenses and get a trout permit before you even think about fishing in Arkansas. The penalties for fishing without these permits in place can get steep in a hurry – and you might not be able to buy another license to fish in the state ever again, either.
What Kind of Trout Fishing is Available in Arkansas?
As we highlighted a moment ago Arkansas didn't have any native trout at all up until the 1960s.
This is when the Arkansas Game and Fish Commission decided to start stocking rivers and lakes with rainbow trout (originally), a practice that still goes on today. All of the trout fishing in the state is based on stocked fish, for the most part, too.
Today you'll be able to fish for multiple species of trout, though.
Rainbow trout, brook trout, brown trout, cutthroat trout, and even lake trout are available to fish in Arkansas water.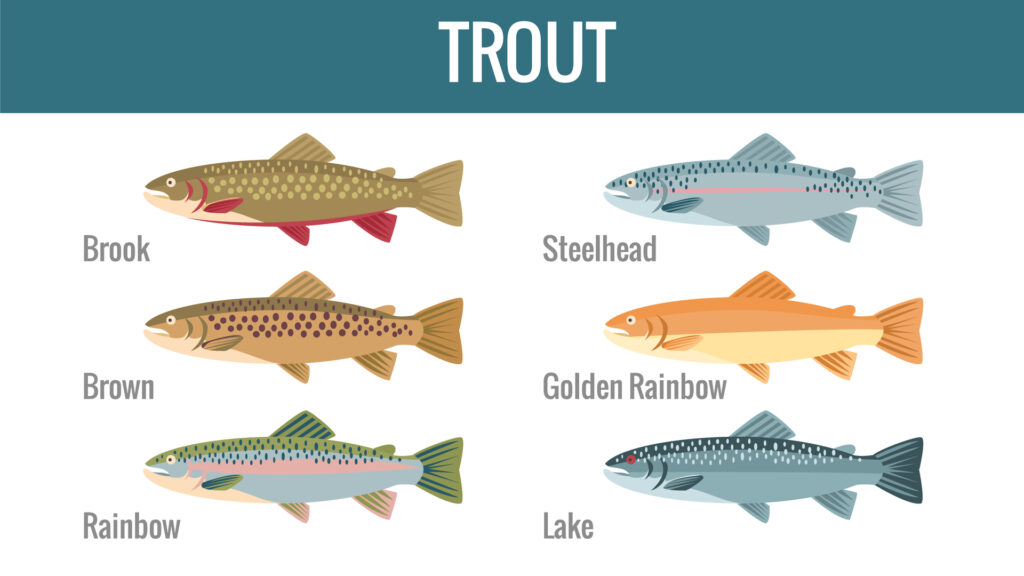 The overwhelming majority of people that do a bit of trout fishing here are big into flyfishing, with a lot of them running dry and wet flies during major hatches throughout the spring and late summer or early fall.
Lots of people do a bit of recreational bait fishing for trout as well in streams, rivers, creeks, and lakes all across Arkansas.
Real monsters have been taken in Arkansas water, too.
The biggest rainbow trout weighed in at 19 pounds and 1 ounce, the biggest cutthroat weighed 10 pounds and 2 ounces, and the biggest brook trout weighed 5 pounds even.
In 1992 the world record brown trout came out of Arkansas water, too! That monster came in tipping the scales at 40 pounds and 4 ounces,  brought in by 64-year-old Rip Collins was fishing with his friend in a boat on the Little Red River (the record has since been broken).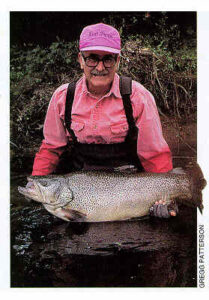 Lake trout don't get quite as big in Arkansas as they might elsewhere. The world record for one of these big boys is 72 pounds, but the record in Arkansas hovers just above 11 lbs. 5 oz.
As you can see, the trout fishing in Arkansas is more than worthwhile and is home to some serious trophies!
Gear You'll Want to Pack for Arkansas Trout Fishing
The gear you'll want to pack for trout fishing is going to vary depending on the type of fishing you are into.
Fly fishing aficionados are going to want to be sure that they bring 5 weight rods with them for sure.
This will give fly fishers plenty of flexibility to throw their line into almost any water in the state, from the smallest blueline creeks all the way up to the widest rivers and some pretty deep lakes.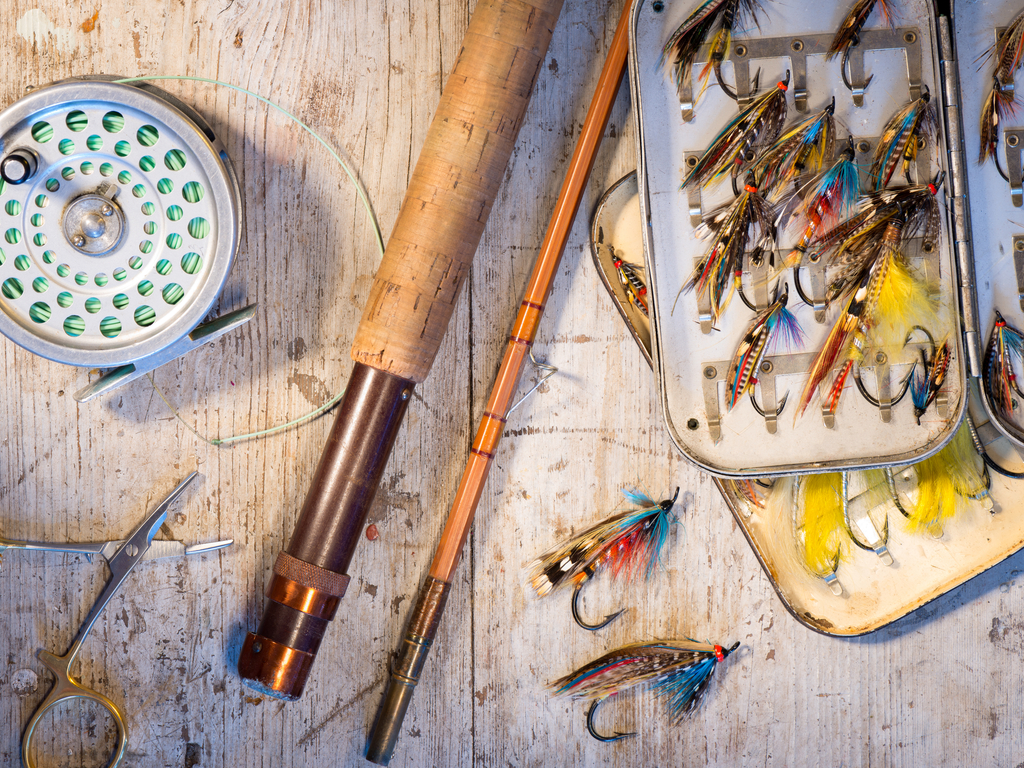 If you're going to be spending a lot of time blueline hunting, though, you might want to go with something a little smaller (maybe even a 2 weight). Lake trout fly fishermen are going to want to bring something a little beefier, like an 8 weight.
As far as flies go, you'll want to bring a pretty decent amount of dry and wet flies and maybe even some nymphs. You'll want to try to match the hatch as much as possible, which will vary depending upon the season and the kinds of bugs you spot on the riverbank or out on the water.
Rod and reel anglers are going to want to be sure that they bring plenty of bait, with artificial lures, spinnerbait, stink bait, and good old-fashioned worms performing really well with trout all over Arkansas.
No matter what kind of fishing you're looking to do it's a good idea to have a decent set of waders, a landing net, plenty of bug spray, and a fully fleshed-out tackle box.
All of that will go a long way towards making sure that your time spent out on the water is invested wisely!
The Best Trout Fishing in Arkansas – Where to Go
Now that we've covered some of the basic ins and outs of what you need to do a bit of trout fishing in the state it's time to dive into the meat and potatoes of where you want to go.
Stick to the spots we highlight below (at least at first) and you'll give yourself the best chance of landing some real whoppers.
White River Arkansas Trout Fishing
It's tough to imagine there is a better spot to do a bit of trout fishing in Arkansas than in the White River (especially when you get down below the Bull Shoals Dam).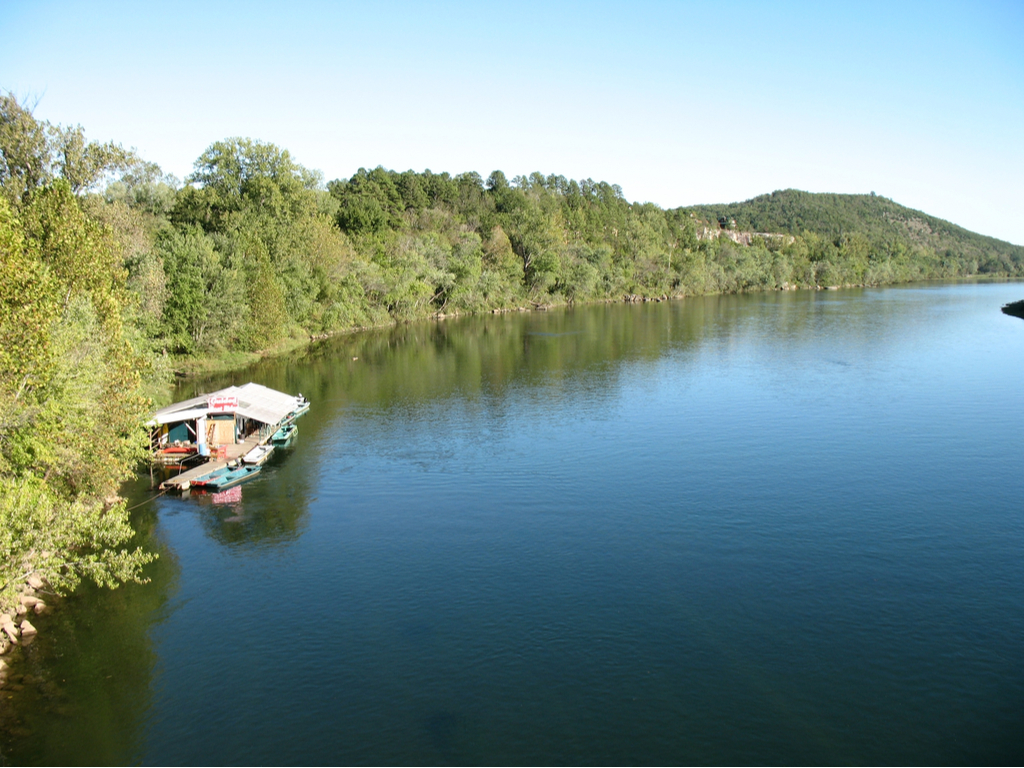 You used to be able to fish this water with nothing but a decent set of waders on, at least until about 2011.
All anglers had to do was park along the Powerhouse Road (or any other roadway that ran south along the White River) and then ramble on down to the bank wherever the water looked halfway "trouty".
Since 2011, though, the state has changed things up a little bit when it comes to regulating water levels and water temperature. The tailwater is now a pretty decent-sized "large river" and might require a floating rig or even a boat.
Still, pulling trout that get 20 inches long or longer out of this water is not at all uncommon.
In fact, the state record for a rainbow trout and a cutthroat trout came out of the White River!
The rainbow almost topped 20 pounds in the cutthroat was no slouch, either – it came in at just above 10 pounds.
If you're going to fish this water on a regular basis it's not a bad idea to bring a fly fishing rod. Dead drifting streamers work the best all throughout the year, as it helps to perfectly emulate the amount of threadfin shad that trout feast on throughout these runs.
If you are more of a bait and tackle kind of person, though, any lure that resembles a silver shad (especially one with a lot of motion and movement underwater) will help you land some pretty big trout, too.
The Little Red River Trout Fishing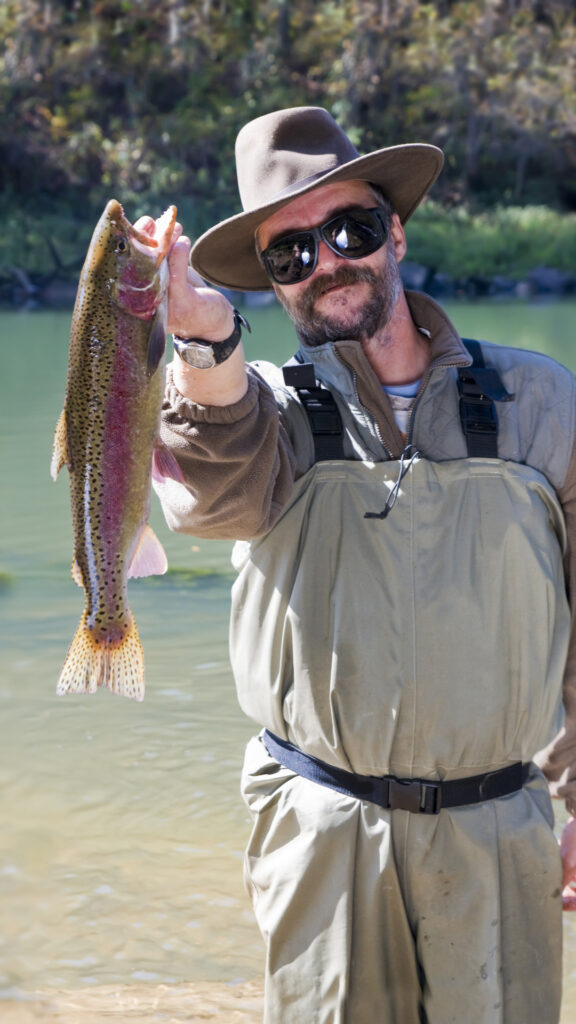 If the action on the White River is particularly gummed up you might want to have a look at the Little Red River instead.
Up until a few short years ago the Little Red River was almost exclusively a "locals only" fly fishermen secret spot.
There wasn't a lot of action, there weren't a lot of nonresidents fishing it, and because it is smaller than both the Norfolk and the White rivers there wasn't really a lot of reason for outsiders to consider fishing it, too.
Like pretty much every other secret spot, though, word got out as soon as giants started to get pulled from this waterway.
Things really exploded on the Little Red River when the world record 40 plus pound brown trout was landed. That's when the floodgates really opened up and people started hitting this water pretty hard.
You might have to elbow people around a little bit during peak seasons when trout fishing, or get there early (we are talking real early) to stake out your spot on the water. But if you're after big browns with butter bellies this is the spot to be!
Norfolk River Tailwater Trout Fishing
Similar in size and stature to the White River, this tailwater is the definition of a trout fisherman's paradise.
Cold water rushes through this tailwater on a regular basis, hovering between 47°F and 54°F practically all year round. There may not be a more perfect climate for big trout to thrive than this!
On top of that, this river sees a lot of subsurface bug activity on a regular basis. That means that there's plenty of food to fill up the big trout that grow underneath the surface, trout that don't have to exert a lot of energy and burn a lot of fuel when feeding, either.
Best of all, you can pretty reliably pull four different species of trout out of this river on the same day.
You'll be able to land rainbows and brown trout that get pretty chunky as well as brook and cutthroat trout that are nothing to sneeze at, too.
Most of the waterway can be fished with nothing but waders on. But if you want to get to some really exclusive spots and weed out the competition it's not a bad idea to grab a canoe, a drift boat, or a Jon boat – especially if you're going to be fly fishing.
Spring River Trout Fishing
When the world record brown trout was pulled out of the Little Red River and the action started to pick up anglers throughout Arkansas started looking for another "secret spot" worthwhile.
It didn't take long for them to come across a couple of nice spots on the Spring River, either.
This river doesn't see a lot of rain or high water, which makes it more of an attractive option for anglers looking to fish all year round.
The best spots here are just below the dam on the Mammoth Springs area (over by the RV Park) with plenty of access along Riverview Drive.
You can wade the entire river for the most part. You'll be able to get to a couple of neat tucked-in spots with some real trouty without much headache and without much hassle.
You also won't have to worry about quite as much competition here, either.
At least not yet!
Ouachita River Trout Fishing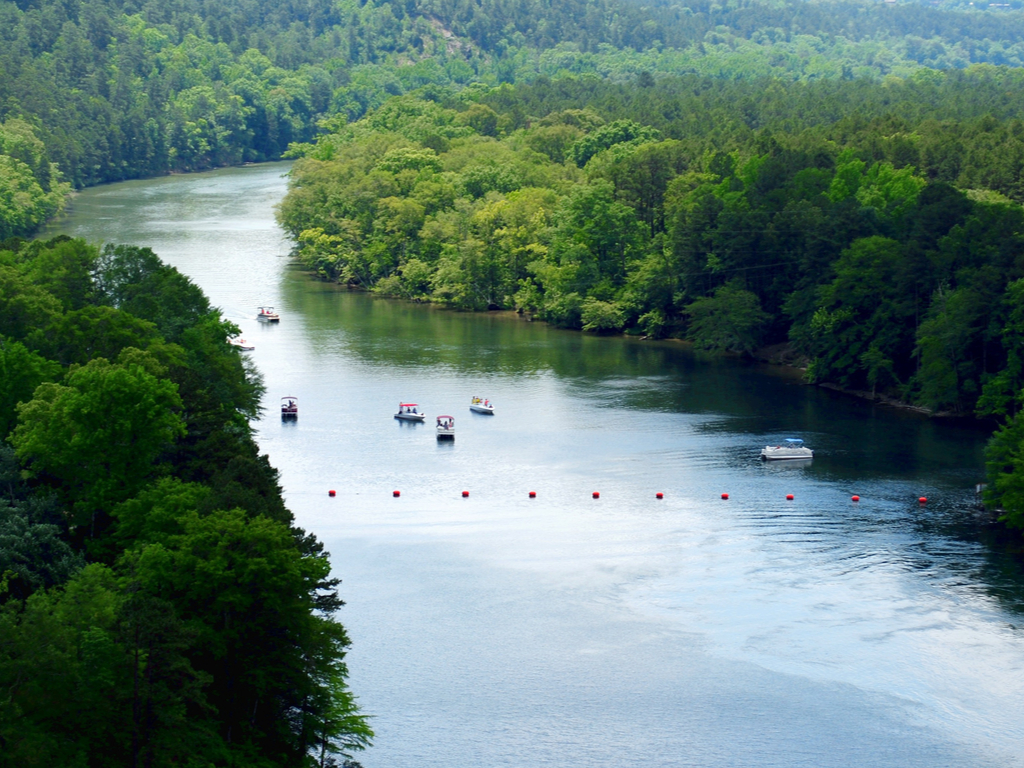 If you don't mind doing a bit of trout fishing for "stockers" almost exclusively, all while giving yourself the best chance to land some decent-sized trout on your trip, this is the river to spot up on.
Trout are going to be stocked on three different dams on this river – the Carpenter, the Blakely, and the Remmel – and stocking times are always released to the general public.
You can wade this river, you can drift in a canoe, or you can just spot up on the riverbank pretty much anywhere and toss aligned in, too.
The trout are always active during the winter but you might even have a chance to snag some smallmouth bass out of this waterway during the summer (if that's something you're into)!
Is It Worth Hiring a Guide for Trout Fishing?
Regardless of whether or not you are new to fishing in Arkansas as a resident or a non-resident, it might not be a bad idea to invest in a guide, at least for the first few times out.
Guides are a little bit pricey at first blush (ranging anywhere between $100 a day and $300 a day or so in Arkansas) but the information they can give you is invaluable.
Remember, these are people that spend almost every single day on the exact same Arkansas waters year-end and year out. They get more time with their line wet than anybody else and they know where to find the trout you're looking for.
You don't have to splash a lot of cash on a guide every single time you do a bit of trout fishing in Arkansas. But it's not a bad idea the first few times, especially if you are new to the area or just passing through.
A guide won't guarantee that you land a world record breaker every time that you go out. But they will (almost) guarantee that you don't go home with your hook completely ignored, either.
References
https://www.aymag.com/top-trout-fishing-arkansas/
https://www.agfc.com/en/fishing/sportfish/trout/
https://www.arkansaswild.com/where-the-trout-are
https://www.gastons.com/2019/08/20/best-trout-fishing-in-arkansas/
https://www.outdoorscult.com/trout-fishing-arkansas-ar-map/
https://www.cottertroutdock.com/