Trout fishing is a popular recreational activity in Kentucky. The state boasts over one hundred trout waters stocked by the Kentucky Department of Fish & Wildlife Resources. With rainbow, brook, and brown trout to fish for, anglers of all ages and experience levels will enjoy trout fishing in Kentucky.
In this article, you will learn about the best places to fish for trout in Kentucky as well as the trout fishing season.
Best Trout Fishing in Kentucky
Kentucky is home to over one hundred lakes, streams, and rivers that house the three most popular freshwater trout species – brown, brook, and rainbow. Some of the best places to fish for trout in Kentucky include Floyd's Fork, Rock Creek, Otter Creek, and Cumberland River.
Floyd's Fork Trout Fishing
Floyd's Fork hosts both rainbow and brook trout and is located in Jefferson County near Louisville. The best times of year to fish for trout in Floyd's Fork is in early spring or mid-autumn. A great way to fish Floyd's Fork is on the water. Try canoe or a rowboat because most of the riverbank is under state protection.
Rock Creek
Rock Creek is found in McCreary County in Daniel Boone National Forest. It is stocked with both brook and rainbow trout. Spring to early summer and fall to early winter are the most optimal times of year to fish for trout here. This area is especially attractive for fly fishing. There are some ideal shallow spots for wading in which the trout love to hang out.
Otter Creek
Otter Creek has all three trout species, although brown trout can only be found close to Fort Knox Military Reservation. The best time of year to fish Otter Creek is late winter through late fall. Located south of Louisville, this is truly one of the best spots to fish for trout as it offers family-friendly camping and hiking areas, and the trout are stocked in high numbers.
Cumberland River
The Cumberland River boasts one of the most well-stocked rivers in Kentucky. It brings in almost 200,000 brown and rainbow trout fish stocked annually. The Cumberland River stretches almost the entire length of southern Kentucky and dips into Tennessee. The best times to fish for trout are from mid-spring through fall.
Finally, there are spots to wade fish in the Cumberland River, although boat fishing is more popular due to the depth of the river and the swiftness of its current.
Is There a Trout Season in Kentucky?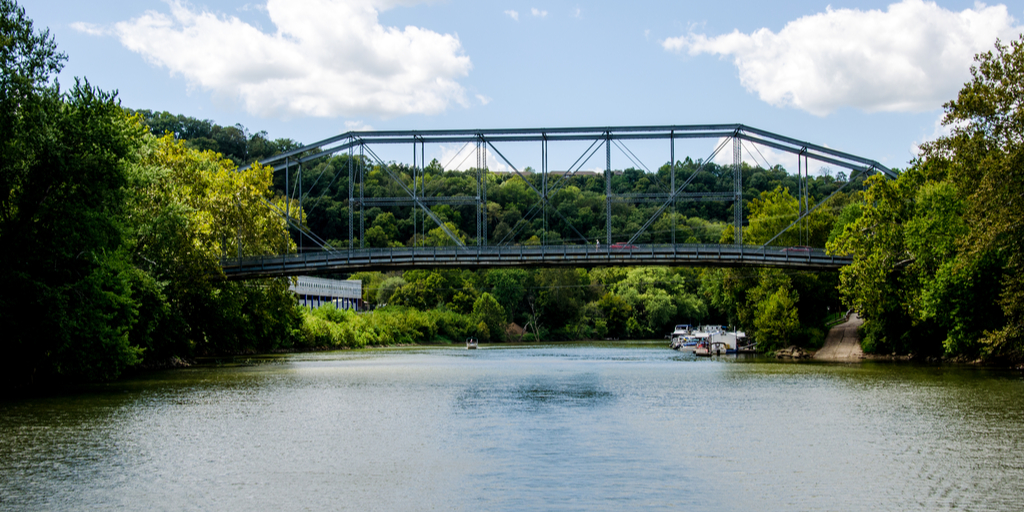 The trout fishing season in Kentucky is all year round with stocking seasons varying by water body. The harvesting season for brook trout extends from April 1 to November 30 for most trout waters. It's not allowed to harvest brook trout during the off-season (between October 1 and March 31). However, catch-and-release fishing is allowed.
Recap
There are many great spots to fish in Kentucky including Floyd's Fork, Otter Creek, Rock Creek, and Cumberland River. Rainbow, brown, and brook trout are abundantly stocked. But, brook trout does have a catch-and-release-only season in most waters.