For those who get enjoyment out of life from angling, keeping up with regulations can seem like a headache. The last thing you want to worry about when reeling in a trout is if you followed the rules of the state and local jurisdictions. Fortunately, the rules for trout fishing in Missouri are fairly straightforward. They're also very friendly to anglers across the state. 
Considering the bounty of trout that come from Missouri's waterways each year, this is a blessing for those who find their happiness in a fishing pole and serene waters. This guide will offer everything you need to know about trout fishing in Missouri — along with a few tips that can help you score the big catch when you head out onto the state's waterways. 
When Is Trout Season in Missouri? 
Perhaps the most important thing to know about fishing is the appropriate season. After all, you don't want to find yourself on the wrong side of a conservation fine. Some of these tickets can cost upwards of $200 for a first offense. That can put a serious damper on your relaxing weekend plans. So, when is trout season in Missouri? 
Those who enjoy trout fishing in Missouri are among the luckiest sportsmen in the world. That's because trout season lasts from March 1 to October 31. This is a full eight months to catch these gorgeous fish for your mantle or dinner plate. By comparison, deer season only lasts about three months and has significant restrictions on weapons you can use. 
What makes trout fishing in Missouri even more exciting, though, is that you can actually still fish during the off-season. The winter's catch-and-release program allows you to continue angling where permitted even during the colder months. This lasts from the second Friday in November to the second Monday in February. Fish must be immediately released and only flies are allowed.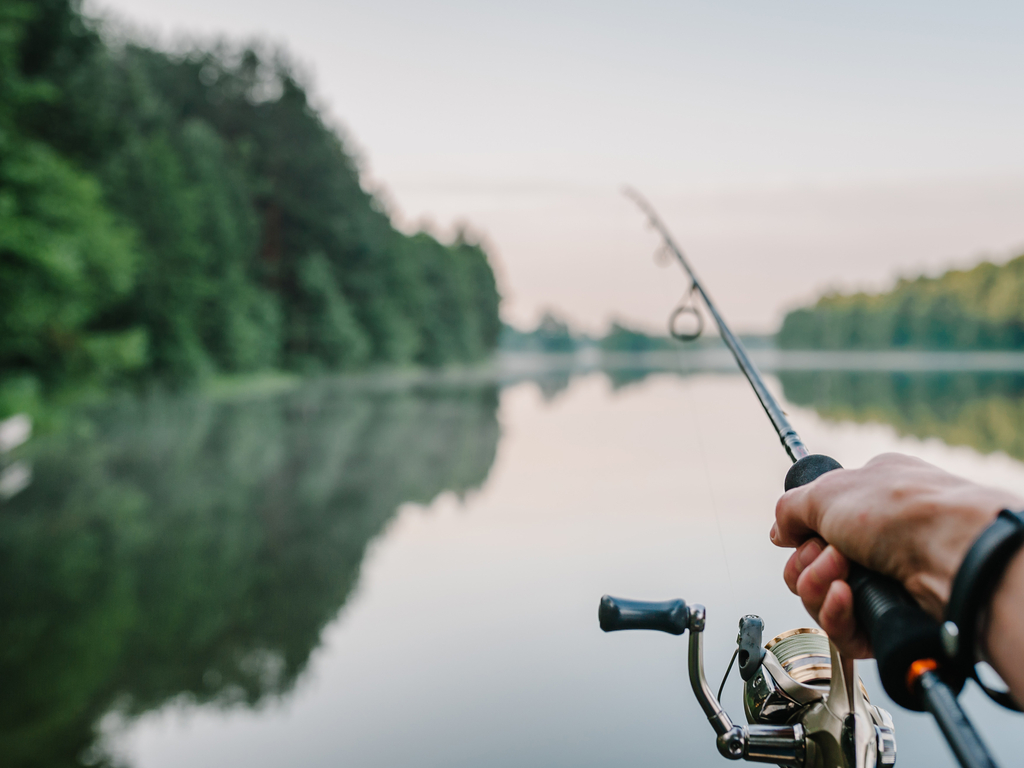 What Kind of Trout Are in Missouri Waterways? 
Succeeding at trout fishing requires more than just a pole, lure, and knowledge of when you're allowed to fish. You need to have an understanding of the animal you're trying to catch. After all, every fish is different. That's why fishermen have to use different angling techniques and lures depending on what they're going after. 
Anyone trout fishing in Missouri doesn't have a whole lot to worry about. There are basically two types of trout in the state's waterways: brown trout and rainbow trout. Below you'll find a brief overview of both. This information will provide everything you need to know about each species so you can better prepare yourself for the catch of a lifetime.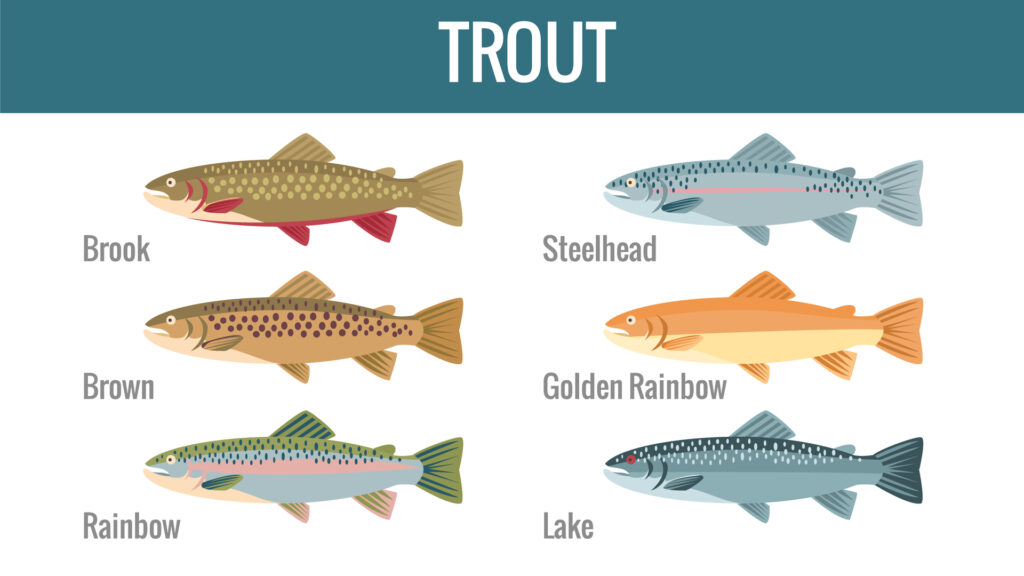 Rainbow Trout Fishing in Missouri
If you randomly selected somewhere to fish for trout in Missouri, you'd most likely come across the rainbow species. They're far more abundant than their brown counterparts, and they were first introduced into the state's cold-water streams back in the 1880s. Any sizable rainbow trout you catch likely came from a hatchery. 
Of course, you'll no doubt find wild trout in Missouri as well. After all, even the best fisherman in the world couldn't pull out every rainbow trout as it was stocked for nearly 150 years. When trout fishing in Missouri, though, you'll never find true "wild" rainbow trout. Even when they're not born in hatcheries, they've typically descended from fish that were. 
Wild rainbow trout are typically smaller than their hatchery-raised counterparts, but they still grow to impressive sizes. They eat insects up until they're 17 inches. Once they grow to this size, they go after non-insect prey and scavenge in slack water. Hatchery-raised fish are more likely to respond to bait, dough, corn, and other human food since they're raised on these items.
Brown Trout Fishing in Missouri
The brown trout began to be imported from Europe during the 1890s — just a few years after rainbow trout made their debut in Missouri's waterways. They're able to tolerate warmer water temperatures than some other trout, but even when it's warm, fishermen still see this species as a challenge to catch. One main reason is there are much fewer of them out there. 
The Missouri Department of Conservation raises about 300,000 brown trout per year. By comparison, between 1.5 and 2 million rainbow trout come from the department. This species is also more difficult to catch because their diet includes larger prey like crayfish and sculpin. This means they'll stay stuffed for hours following a meal. 
Don't let this dissuade you from going after the brown trout. They're still opportunistic feeders, so with the right bait drifting technique, you may still score a catch. If they've recently eaten, though, it's unlikely they'll go after a fly or lure. If you're hoping to catch a beautiful brown trout, you'll need to keep this in mind when mapping out your strategy. 
Where to Fish for Trout in Missouri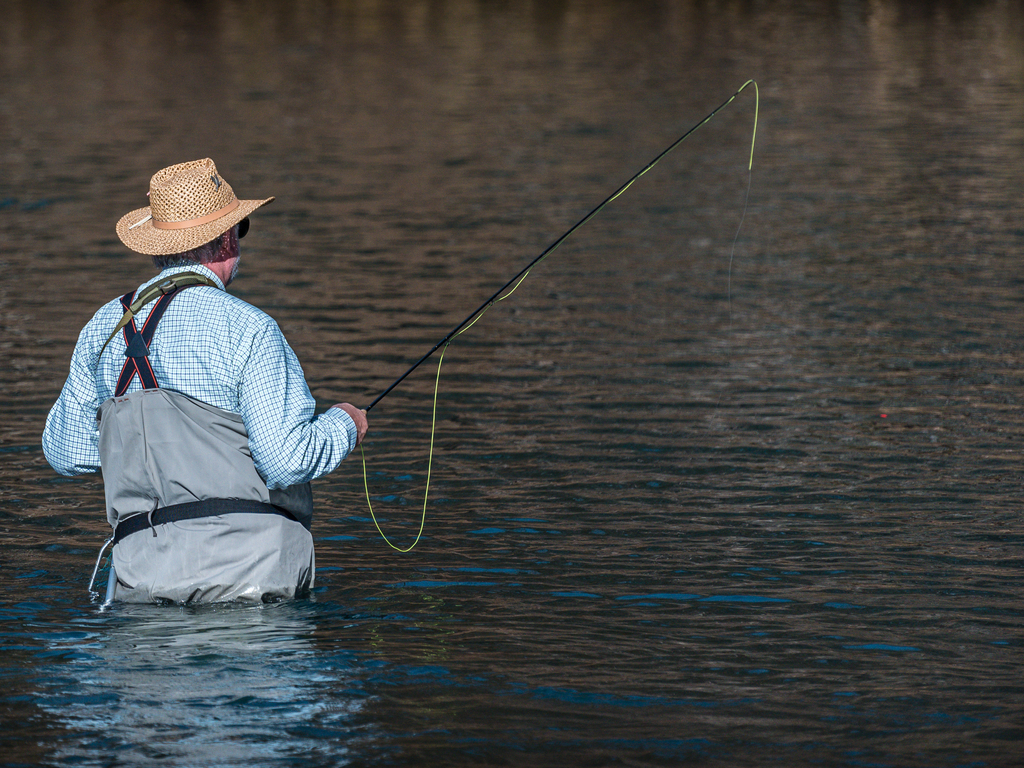 State parks, rivers, streams, the Ozarks, and countless other waterways offer trout fishing in Missouri. In a later section, we'll discuss some of the best places to catch trout in the state. In this section, however, we'll focus on the three trout areas. Regulated areas in the state usually fall under these three labels, and each label provides a wealth of information. 
By understanding these trout areas, what they offer, and the regulations involved, you'll be able to better plan your fishing day to meet your goals. 
White Ribbon Trout Areas 
Any waterway labeled 'White Ribbon' has relatively few restrictions. You can use any type of bait, but there's a daily limit of four trout. This applies to brown trout that are at least 15 inches and rainbow trout of any size. The state stocks these areas once every few weeks, so they offer great opportunities for trout fishing in Missouri. The following waterways have White Ribbon areas: 
Roaring River

Stone Mill Spring

Hickory Creek

Eleven Point River

Capps Creek

Roubidoux Creek

Little Piney Creek
When trout fishing in Missouri, keep in mind that regulations can change in certain areas depending on the season. For example, Stone Mill Spring Branch only allows lures and flies between November and February. Anything caught in the water source during this time is also catch-and-release. Pay attention to special area regulations to protect yourself. 
Red Ribbon Trout Areas 
Any water source labeled Red Ribbon has a daily limit of two trout that have reached at least 15 inches in length. They're mostly stocked with brown trout. Soft plastics are prohibited, and you can only use lures or flies in these locations. Each of the following waterways has Red Ribbon areas: 
North Fork of the White River 

Meramec River 

Roubidoux Creek
While there are more restrictions in these areas, they're great spots for trout fishing in Missouri. That's because they're regularly stocked and rules prevent overfishing. This increases the likelihood of scoring an impressive catch. 
Blue Ribbon Trout Areas
When it comes to fishing in Blue Ribbon trout areas, you only need to look at the name to know what it's all about. Unfortunately, you'll run into a daily limit in these areas of a single trout that's at least 18 inches. Like Red Ribbon areas, soft plastics are prohibited and only lures and flies are allowed. The habitats are immaculate, though, and support wild reproduction and large trout. 
This is essential for continued bountiful trout fishing in Missouri. The following waterways have Blue Ribbon areas: 
Mill Creek 

Spring Creek 

Eleven Point River 

Crane Creek 

Barren Fork Creek 

Current River 

Little Piney Creek
If you're looking for your Blue Ribbon catch, these waterways will offer you a great opportunity. 
Winter Trout Lakes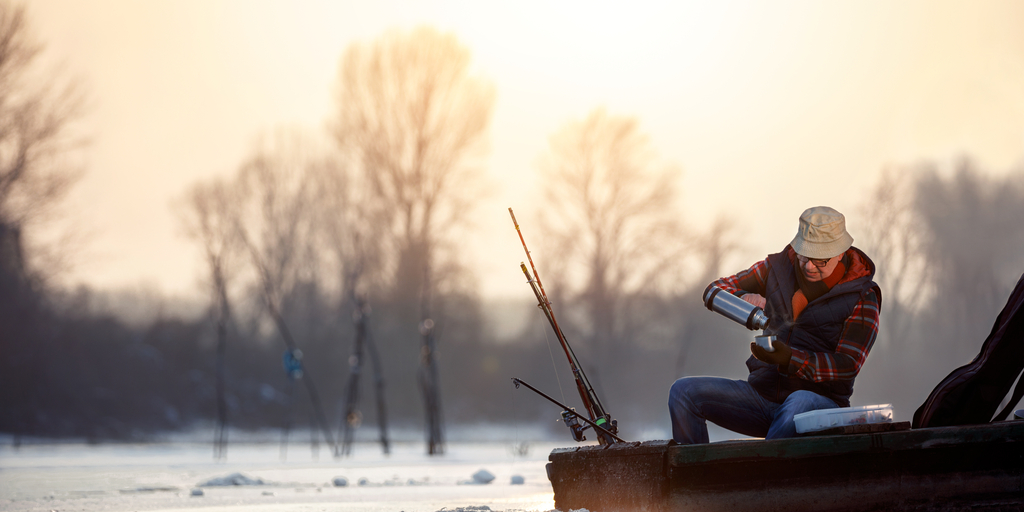 In addition to the three ribbon areas, there are locations without spring-fed streams where the state stocks trout starting in November. These Winter Trout Lakes have varying limitations on harvesting. For instance, some areas have a catch-and-release period early in the season. Regulations and even the waterways that qualify can change. 
This makes it ideal to keep track of these areas on the Missouri Department of Conversation's website. As of 2021, you can enjoy trout fishing in Missouri in special winter lakes in the following locations: 
Central Missouri 
Lake Minesa 

Cosmo-Bethel Lake 

Veterans Park Lake 
Kansas City Region 
Liberty Park Pond 

Coot Lake 

Cleveland Lake 

Chaumiere Lake 
Northern Missouri 
Spur Pond 

Krug Park Lagoon 

Huckleberry Lake 

Everyday Pond 
Southeast Missouri 
Rotary Lake 

Legion Lake 1 

Giessing Lake 
St. Louis Region 
Tilles Park Lake 

Vlasis Park Lake 

Walker Lake 

Gendron Lake 

O'Fallon Park Lake 

Suson Park Island Lake
Special Area Regulations for Trout Fishing in Missouri
There are various regulations faced by anyone fishing for trout in Missouri. For instance, you must return a trout to the water immediately if you don't hook it by the mouth or jaw. There are also no alternate methods of fishing — such as snares or atlatls — allowed for catching trout. These and other general rules are pretty basic, but some places are more restrictive than others.
The following list is just a small sampling of Special Area Regulations faced by those trout fishing in Missouri. 
Barren Fork Creek 
Fishermen are restricted from using porous-soled waders. Scented baits are also not allowed in the Blue Ribbon Trout Area. 
Bennett Spring State Park 
Unless you qualify for an exemption, you must have a daily trout tag and a fishing permit during normal trout season. Between November 12 and February 14, allowable fishing hours are restricted and only catch-and-release is allowed. 
Boathouse Lake 
If you plan on keeping any trout you catch, you'll need to get permits. You must cease fishing for any species if you catch and keep four trout. In November and January, chum is prohibited and you can only use one pole.
Current River 
Any trout you keep must have its head, skin, and tail intact if you're on waters with length limits. Restrictions apply to different areas — such as porous-soled waders not being allowed in Shannon and Dent counties. 
Dry Fork Creek 
In Dent and Phelps counties, you can only keep two 15-inch or longer trout if you're upstream from the elevated cable crossing. 
Gendron Lake 
Only three poles can be used on this waterway, and permits are required if you plan on keeping your catch.
The Rules Are Worth It!
This illustrates what may be the most confusing part of trout fishing in Missouri. Differing regulations can seem difficult to keep up with. Fortunately, the state keeps an updated list of all its Special Area Regulations. This means it only takes a bit of planning when fishing for trout in Missouri, and then you can enjoy the state's bountiful waterways. 
Where Is the Best Trout Fishing in Missouri?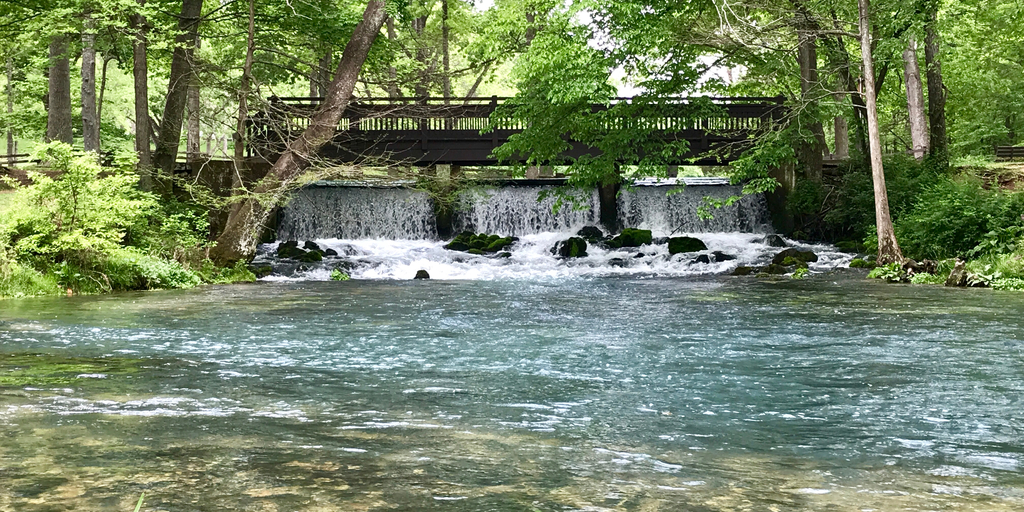 There is no shortage of places in Missouri to enjoy trout fishing. Of course, everyone knows that not all fishing spots are created equally. If you're looking for a particularly exciting day on the water, consider hitting the following locations. They're among the most popular for Missouri natives and visitors alike: 
Lake Taneycomo

: These waters are stocked with about 10,000 brown trout and 600,000 rainbow trout every year. 

Maramec Spring Park

: Between March and October, rainbow trout are stocked daily. In the fall, large fish from the Maramec River migrate to the area. 

Montauk State Park

: This park is great for year-round trout fishing in Missouri. It has three designated areas — one of which is catch-and-release — so make sure you know where you are. 

Bennett Spring State Park

: Clear water, shallow conditions, and daily trout stocking lasting from March to October make this one of the most popular places in Missouri for trout fishing. All three fishing zones exist in this park, so you can pick a spot based on how you want to fish. 

Little Piney Creek

: You'll find wild trout and hatchery-raised fish in this creek. Even if you snag one of the smaller wild trout, they can still grow over 20 inches. 
While these are certainly some of the most popular places for trout fishing in Missouri, this list is far from exhaustive. The Missouri Department of Conservation lists dozens of spots on its website, and these are just those located in state parks and major waterways. The moral of the story: Missouri offers countless opportunities for great trout fishing. 
Start Enjoying Trout Fishing in Missouri Today
While this guide may seem extensive, it's simply in-depth for your benefit. Much of the information you've learned — such as when you can take your catch home and when you have to release — is something you'll only need to learn once. While the rules of your outing could vary based on location, you now know the basics of trout fishing in Missouri!
The most important thing to remember, though, is to simply enjoy yourself. In a state where 18-pound rainbow trout and 40-pound brown trout have been pulled from the waters, you'll have plenty of opportunities to create your own big fish tale. Even if you don't reach these record-breaking levels, though, Missouri offers some of the best trout fishing in the world.