Trout fishing in Minnesota can offer a variety of experiences from fly fishing in the summer to ice fishing in the winter. Minnesota is home to over 3800 miles of trout waters housing brook, rainbow, and brown trout.
In this article, you will learn about some of the best streams to fish for trout in Minnesota, regulations on size and catch limits, trout fishing season in Minnesota, and ice fishing for trout.
Best Trout Streams in Minnesota
The Whitewater River in southeastern MN offers a great spot for fly fishing and a bountiful catch from its waters stocked with rainbow, brook, and brown trout. Another hidden gem in the southeastern part of the state is Trout Run Creek. This creek boasts 2000 to 4000 trout per mile.
The Temperance River in northeastern Minnesota is one of the top-rated trout fishing spots, housing all three trout species Minnesota waters have to offer. Waters near the state's capital also offer some great trout fishing including the Vermilion River and Cenaiko Lake.
The Vermilion River is home to many brown trout in excess of 20 inches in length. The Cenaiko Lake has an abundance of rainbow trout, especially in the spring and fall.
Trout Fishing Minnesota – Regulations
When trout fishing is in season, only five total trout per person per day are allowed to be caught. The species included in this regulation are rainbow, brook, splake, and brown trout. You may catch and keep any combination of these four species. Only one fish greater than sixteen inches in total length is allowed to be kept per day. For more information, check out the official website.
Minnesota Trout Fishing Season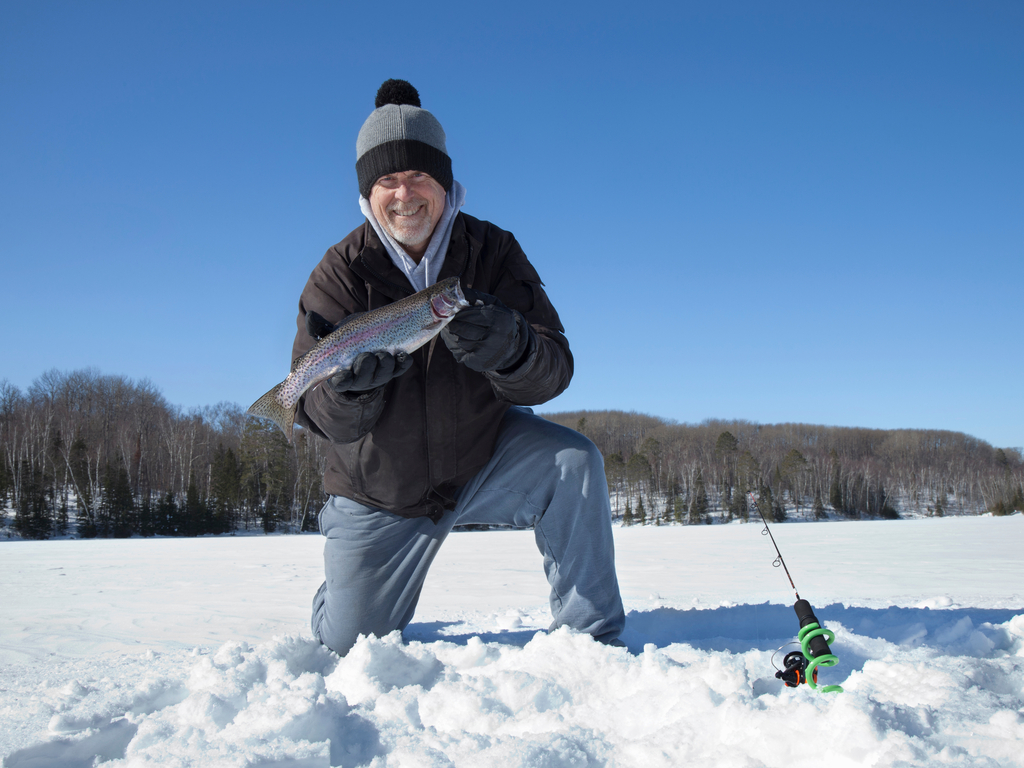 Minnesota trout fishing season varies by region but for most of the state, excluding the southeastern counties, it occurs from mid-April through the end of September for brook, rainbow, brown, and splake trout.
For the southeastern counties, the harvesting season occurs from mid-April to mid-September while catch and release seasons are typically from mid-September to mid-October and the beginning of January to mid-April.
Ice Fishing for Trout in Minnesota
Ice fishing for trout in MN occurs mostly within the winter fishing season. This takes place between the beginning of January and the end of March. The best waters to ice fish for trout are the lakes in northeastern and upper north-central Minnesota. These offer cold open waters in which the trout hunt and thrive.
One of the best ice fishing spots for trout is on Lake Superior where the ice stays thick for weeks. Waters of depths between thirty to one hundred feet are where trout usually are.
Having a multitude of locations from which to fish will more likely guarantee a catch. This is because ice fishing essentially occurs over open water where trout can easily move around under the ice.
Recap
MN offers a variety of trout fishing for both summer and winter anglers. You can catch brown, brook, splake, and rainbow trout. The best trout streams are dotted throughout the state and offer a haven of trout fishing for any angler.