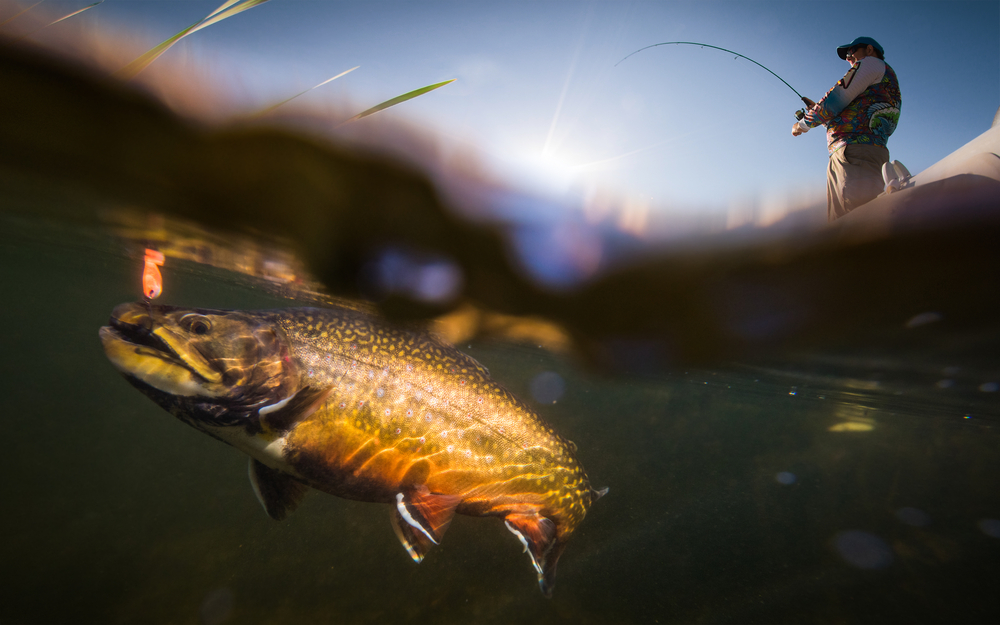 While maybe not as famous or as beloved by trout fisherman as Montana or Wyoming, California is still home to some of the best trout fishing water in the country – and perhaps even in the world.
Far and away the most geographically diverse of all the states in the US, California is so much more than big cities, Hollywood, and beautiful beaches.
There are thousands and thousands of miles of rivers throughout California (Northern and Southern California alike), and beautiful trout fill them to the brim.
Obviously, though, the more you know about the best trout fishing in California the better positions you're going to be in for success.
And that's why we've put together this ultimate guide!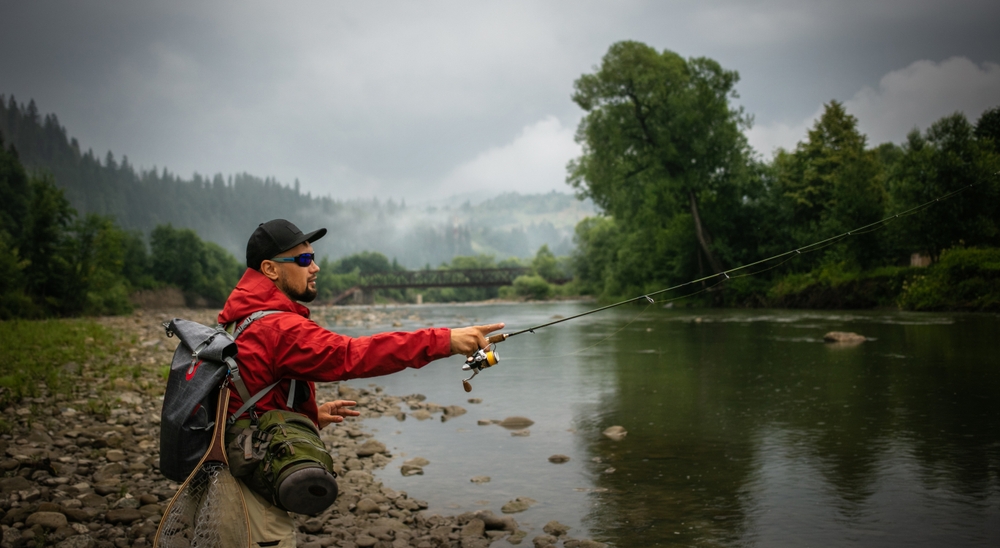 Can You Fish for Trout in CA?
Can you fish for trout in California?
You bet you can – and you can have a great time doing it, too.
We're not just talking about the coastal trout that you can catch up and down the coastline out this great American state, either.
You'll find a bunch of other kinds of trout to go after as well. Beautiful California Golden Trout, Cutthroat trout, Rainbow trout, and a couple of other species that we will highlight a little later in this guide.
People have a lot of success fishing on-the-fly for trout in California, but they have a ton of success and a lot of fun throwing out baited and lure lines as well.
No matter what kind of fishing you like to do best you'll be able to get some of that in all across the state of California.
Maybe even more impressive, though, is the diversity of opportunities you'll have for these beautiful fish in CA.
Tiny blue line mountain streams will have you chasing little brookies, but in 40 minutes to an hour (maybe a little longer than that) you can beyond big water chasing monster Goldens and Rainbows – we are talking legitimate trophy fish, here.
That's a big part of the allure of California.
It's why this state draws so many people year after year, particularly outdoors people that want to spend a little time tossing a line in the water to see what bites.
To put it simply, you sure can fish for trout in California.
It's different than fishing for trout in Montana or the Catskills, that's for sure. But it's going to be a heck of a lot of fun all the same!
Do You Need a License or Stamp to Fish for Trout in California?
Unsurprisingly, California has a whole host of laws, rules, and regulations you'll want to follow if you plan on doing any fishing – for trout or anything else – in state waters.
The majority of trout fishing rules and regulations fall under the "California Freshwater Sport Fishing Rules" as governed by the California Department of Fish and Wildlife.
A full digital copy of the rules can be found here at this link, but we'll go over a couple of the more important ones you'll want to be aware of below.
For starters, you are going to need to get either a resident or nonresident fishing license if you're going to be doing any fishing in California.
Any person that has lived in California for six months or more immediately preceding their application for the fishing license may receive a resident license. However, they wave this ruleFpr for all members of the US military.
Anybody else that doesn't fit that bill will need to get their hands on a nonresident license (always a little more expensive than the resident option).
Unlike other states across the country – including states like Montana – you are not going to have to purchase an extra "trout stamp" to fish for this specific species in California waters.
You'll be able to jump right in as soon as you get your license, and as a licensed angler in California you can go after traditional trout species as well as chars, steelhead, and grayling.
The only thing you won't be able to do with a resident freshwater fishing license is throw your line into the ocean. That's an entirely separate license you'll need to get your hands on (the saltwater fishing license), with it's own fee structure and many other unique rules and regulations.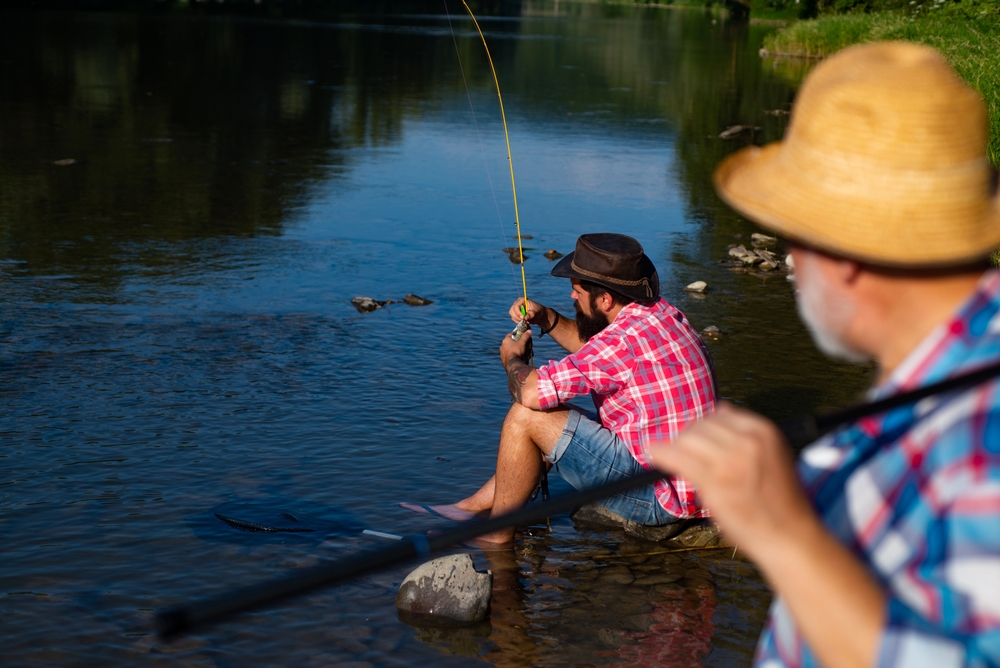 How Much do CA Fishing Licenses Cost?
As of 2022, a resident sport fishing license will set you back $54.
Nonresident sport fishing licenses will set you back $145.80.
It's also possible to scoop up one day, two day, or 10 day fishing licenses if you're only going to be fishing in California for a short amount of time. Those license prices (again as of 2022) cost $17.54, $27, and $54 respectively.
You can also purchase lifetime fishing licenses.
Kids nine years old or younger at the time of the license purchase can get them for $594.75.
People between the ages of 10 and 39 will have to pay $972.50 for a lifetime license. Folks between the age of 40 and 61 are going to have to pony up $876 even.
Anyone older than 62 years of age will be able to get a lifetime license for $594.75 – the same price as a child's license under nine years old.
How to Get a CA Fishing License Online
There are a number of different options available to you to get your California fishing license, but the easiest way (by far) is simply to jump online and purchase the licenses you want directly from the California Department of Fish and Wildlife.
All you really have to do is visit this link right here and go through a quick registration process.
You'll need to provide your name, address information, and a handful of other pieces of identifying data before you're able to create your unique account for the California Department of Fish and Wildlife website.
After that, simply click the ONLINE LICENSE AND SERVICES link (it's in a big blue bar near the top of every page) and you'll be immediately directed to the online purchasing system.
Here you'll be able to pick and choose all of the different licenses you want to buy and you'll be able to add them to your digital shopping cart.
And that's really all there is to it!
They will provide a digital copy of your license. It's a good idea to keep that on your phone (screenshot works wonders) until you receive your physical licenses in the mail – when applicable.
Other than that, though, you are ready to roll.
Now you can hit the water and start hunting for trout!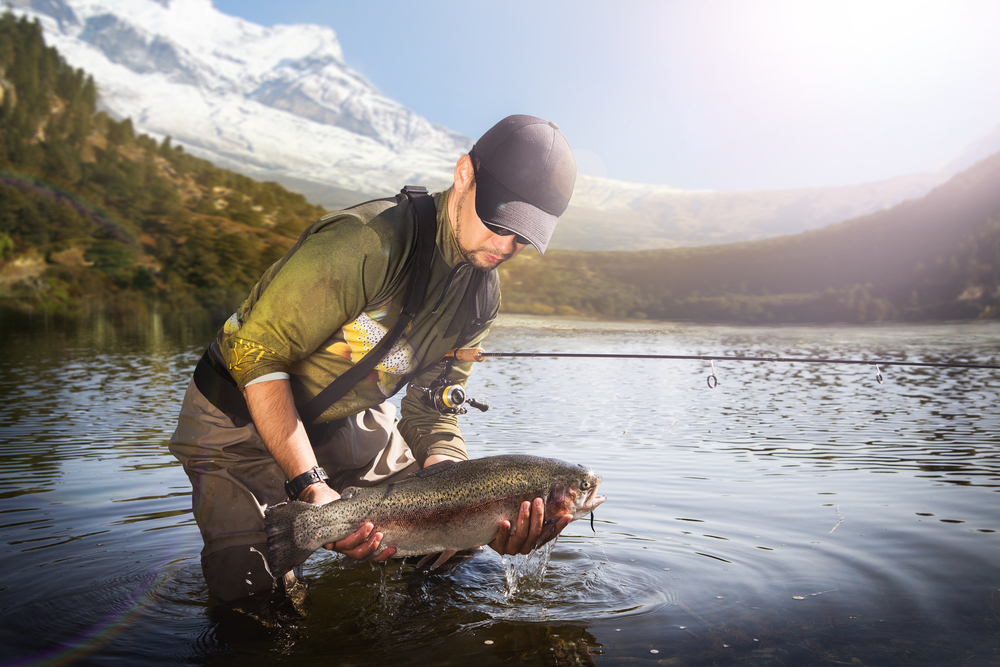 When is Trout Season in California?
The California Fish and Game Commission regulate trout fishing season, with the traditional season opener falling on the last Saturday in April every year.
The traditional trout season (for most hatcheries, anyway) stretches from April to May, June to September, and then November through February.
As always, it's a good idea to double check for any specific rules and regulations – as well as open season dates – for any of the waters you hope to fish there.
What Kind of Trout Are in CA?
California is home to more than half a dozen different types of trout, giving anglers ample opportunity to catch a number of different trophies every time they had out on CA waters.
The Coastal Rainbow Trout is probably the most populous of the trout you'll find in this state, particularly if you're fishing near the western slopes of the Sierra Nevada.
The California Gold trout are native to two separate stream systems on the eastern side of the Kern River (amongst other waters), and then of course you will have lots of opportunities to land cutthroat trout and brookies, too.
The MacCloud River Redband Trout is unique to California. There aren't a ton of these fish left in the state, though, and that means regulations regarding their capture (and release) are pretty strict.
California also used to be home to the Bull Trout, but ever since 2017 this fish has been considered extinct across the state.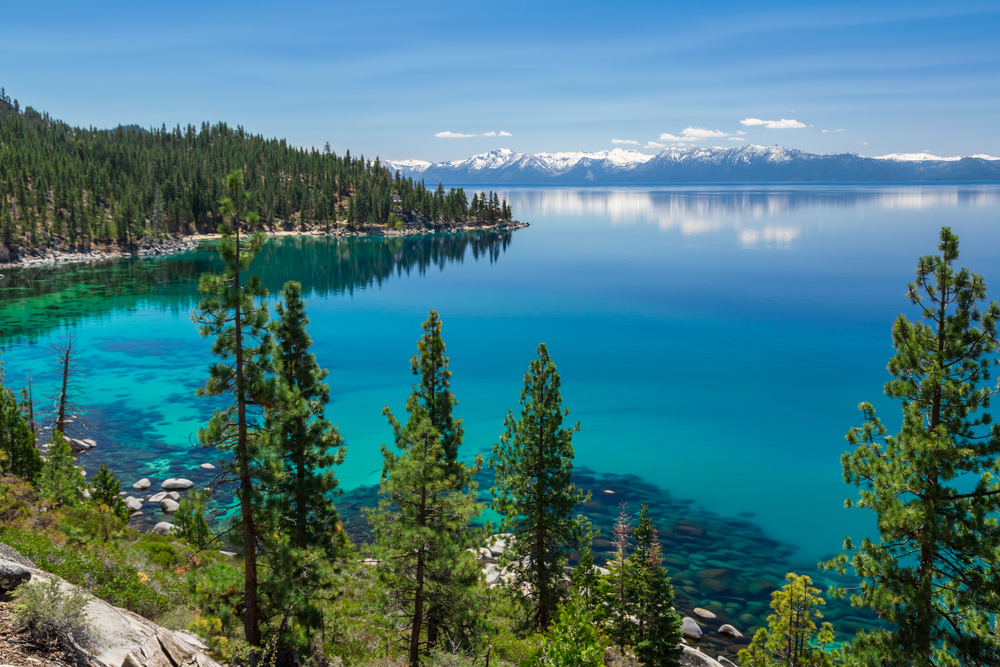 The Best Trout Fishing in California – Northern CA Hotspots
Now that we've gone over some of the "nuts and bolts" of how to get into trout fishing in California, let's break down some of the best spots for fishing in this state – starting in the northern part of CA.
Lake Tahoe (technically partially located in Northern California) is universally regarded as home to some of the best trout fishing you'll find anywhere in the state.
You can pull out Mackinaw trout weighing north of four pounds pretty regularly. You'll want to check it out for sure.
Deer Creek represents a 60 mile long stretch of creeks and streams that act as a major tributary for the Sacramento River. If you are looking to fish for rainbow trout, brown trout, or brook trout in Northern California – while flyfishing or throwing spin bait, it makes no difference – you'll need to make sure this is on your itinerary.
Monster rainbow and brown trout can be found all over Lake Shasta, especially when you're doing some fishing in the summertime. Big catches and trophy fish always come out of this water every year, thanks in large part to the abundance of food sources in the region.
Tucked away in a mountain valley, Lake Almonar deserves a visit for anglers that want to take on a bit of a trout fishing challenge. Trout fill these waters to the brim, but these trout are wary of anglers and have seen pretty much every trick in the book.
If you pull a fish out of here it's going to be a monster brown or rainbow trout more often than not!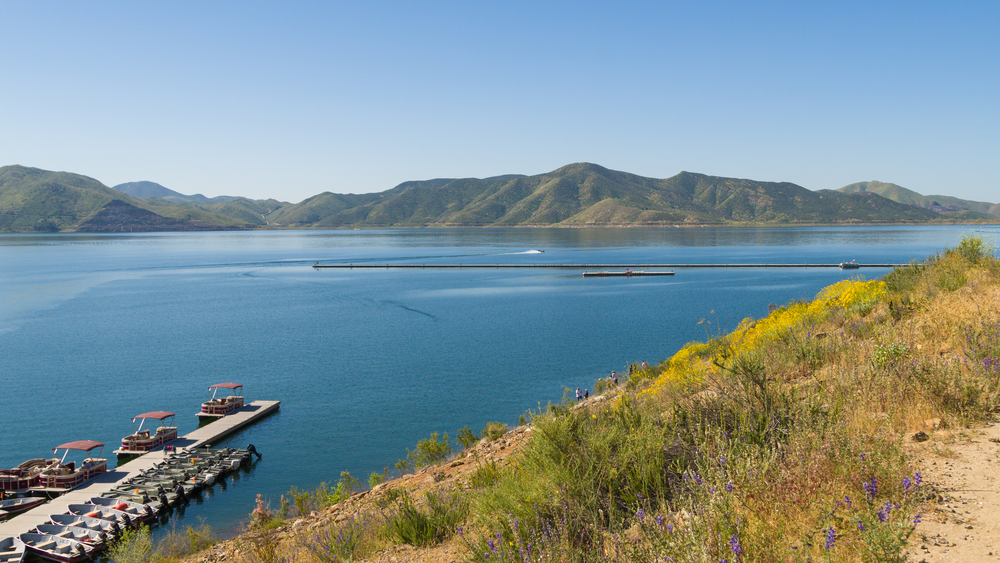 The Best Trout Fishing in California – Southern CA Hotspots
There are plenty of fantastic trout hotspots in Southern California too.
Diamond Valley Lake (situated maybe 85 miles north, northeast of San Diego) isn't just the largest reservoir in Southern California – it's also one of the deepest at 260 feet, making it a fantastic habitat for trout to thrive all year round.
The San Vicente Reservoir is another trout fishing blockbuster spot you'll want to visit when in Southern California. Just 25 miles northeast of San Diego,  The California Department of Fish and Wildlife stock this reservoir with rainbow trout all throughout the winter. These fish can grow to be monsters especially when springtime rolls around.
Just outside the city of Palmdale is a 150 acre lake called Littlerock Reservoir. It's also stocked with rainbow trout throughout the spring and summer, but you can find native brown trout in its water as well.
Closing Thoughts
All in all, the trout fishing you'll find in California is unlike anything else you'll find in the rest of the country – but a lot of that has to with the natural beauty of the wild parts of this great state.
Trout fishing in California is fun, always engaging, and often a little more challenging than many expect.
Whether you would like to throw flies in the water or spin bait, there are going to be plenty of opportunities for you to get in the kind of trout fishing you like best.
Good luck out on the water!