Trout is light and flakey with a mild taste similar to catfish, making it extremely versatile, and can be cooked in several different ways including grilled, poached, pan-seared, fried, smoked, and baked. Read on for some great recipes for trout fish.
Here are 7 of our favorite recipes for trout fish that provide a flavorful and healthy alternative for a delicious meal.
Trout is considered one of the most sustainable fish sources, has low mercury content (a neurotoxin often found in seafood), and packs a strong nutritional punch. A 3oz serving of trout contains 20g of protein for muscle and organ repair, only contains, 5g of fats (most of which come from the healthy unsaturated fats known as omega-3 fatty acids), and lots of vitamins and minerals.
And now…without any further interruption, here are 7 mouthwatering and healthy recipes for trout fish!
1. Trout in Garlic Butter & Lemon Sauce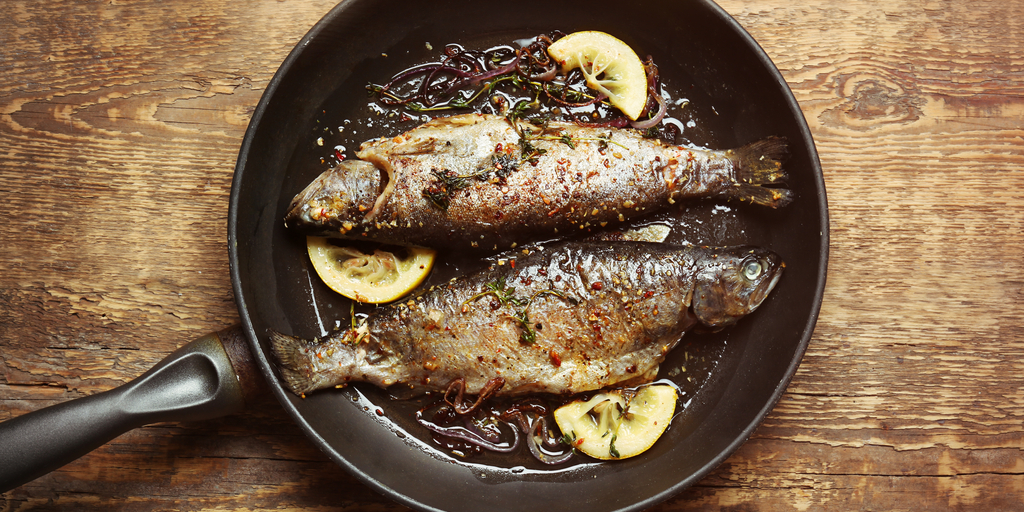 This recipe uses garlic, butter, white wine, and lemon juice combined as a sauce and poured over two large fillets of trout seasoned with oregano, thyme, and salt. The fillets are pan-seared on both sides in olive oil and only take about ten to fifteen minutes to cook. 
Topped with parsley and served with rice and vegetables, this trout fish dish is simple and quick to make yet provides a tasteful Mediterranean flavor that the whole family is sure to love.
The full recipe can be found at Julia's Album.
2. Recipe for Trout Fish (Extra Crispy)

This recipe provides a crispy twist on cooking trout. Baste the trout fillets with a sauce made of Dijon mustard, lemon juice, cayenne pepper, garlic powder, and paprika, and top the fillets with pressed-in panko bread crumbs. 
Pan fry fish in avocado oil on each side for about four to five minutes and you've got yourself a crispy breaded fish fillet with a little bit of kick.
The full recipe can be found at Rebecca Bitzer; Associates. 
3. Grilled Citrus and Seasoned Trout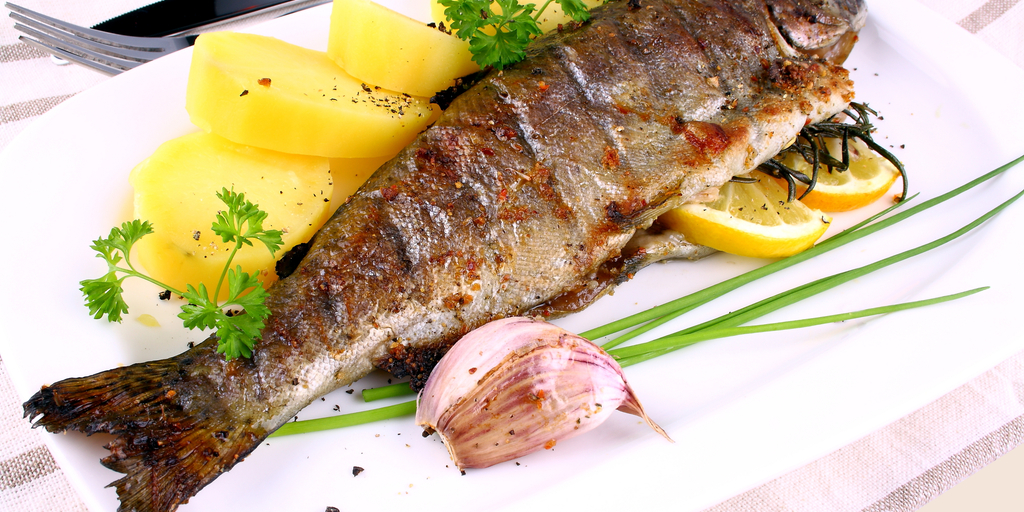 Grilling trout is a great way to cook up a fresh catch. Simply gut the fish but keep it whole. Within the cavity of the trout liberally sprinkle in pepper, salt, and any other desired herbs such as oregano, rosemary, fennel, marjoram, dill, and thyme. Add some citrus fruit slices like limes, oranges, or lemons (or all three!).
Cook the fish on the grill at 350 or 375 degrees until the meat inside is opaque. It usually takes about five to ten minutes per side for the trout to completely cook. Once it's done, enjoy your grilled concoction with some other summer staples such as corn on the cob and watermelon.
The full recipe can be found at The Healthy Foodie.
4. Smoked Lake Trout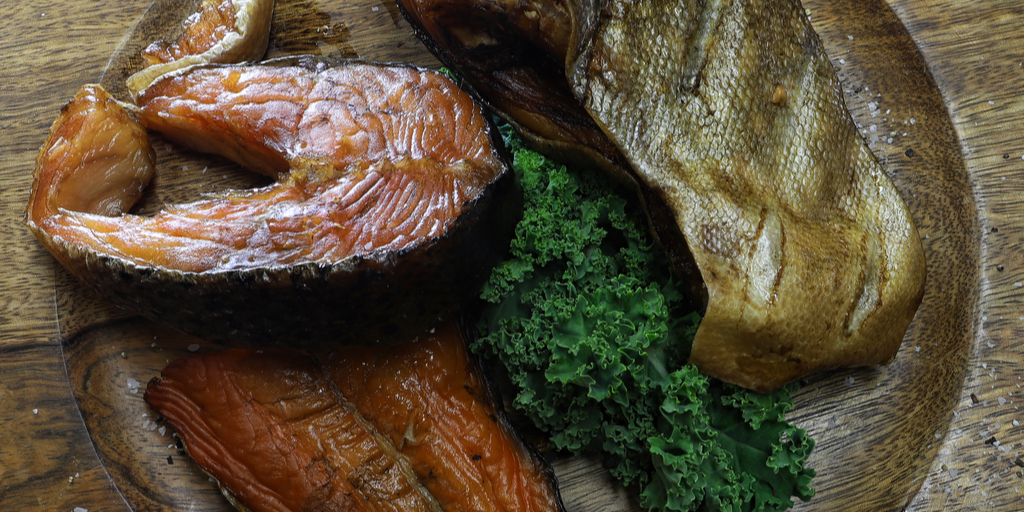 Lake trout tends to be least favored among the trout species when it comes to eating because of its high-fat content. However, like salmon, smoking lake trout is a great way to eat this fatty fish without getting too greasy. 
The best way to smoke lake trout is to heavily salt both sides of the fish and then add some seasonings like citrus food, rosemary, or spruce, or fir tips. Refrigerate the fish for as many hours as it weighs. Then rinse the fish off in cold water and let it dry for a few hours or up to a day in a cool place. 
Smoke the trout between 180 and 225 degrees Fahrenheit for an hour and a half to four hours depending upon the size of the fish. Once done, enjoy as you would smoked salmon – on a bagel with cream cheese, rolled up in sushi, or simply spread on a cracker as a snack.
The full recipe can be found at Hunter Angler Gardener Cook.
5. Roasted Trout with Asparagus and Potatoes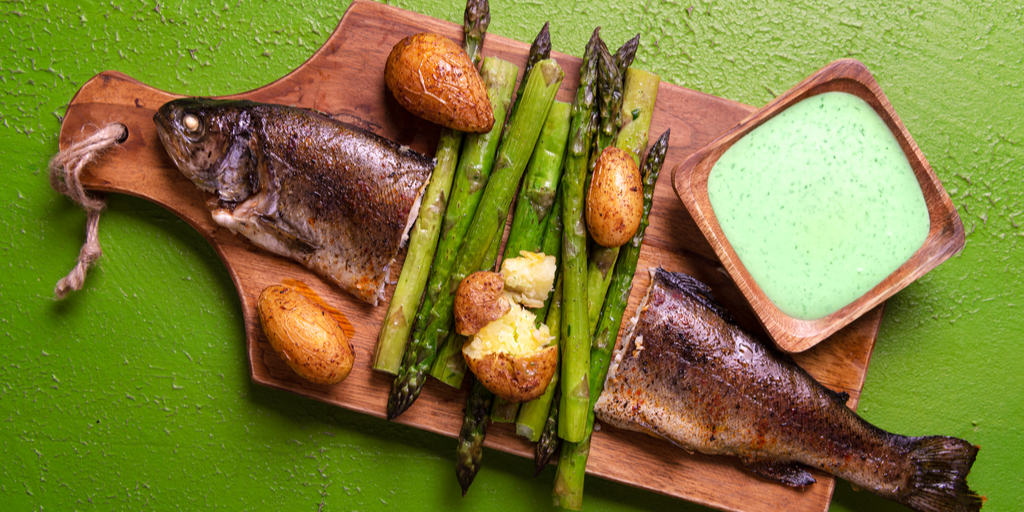 Make this easy one-pan meal that is sure to satisfy any appetite. Simply arrange pre-cooked potatoes and raw asparagus on a sheet pan, drizzle with olive oil, and sprinkle with pepper and salt. Rub salt and pepper on your trout fish and put fresh sprigs of thyme and slices of lemon in the cavity.
Lay the fish in the sheet pan and roast in the oven at 425 degrees Fahrenheit for about twenty-five minutes. Enjoy a fully cooked meal that's healthy and savory.
The full recipe can be found at Serious Eats.
6. Poached Trout with Leeks and Lemons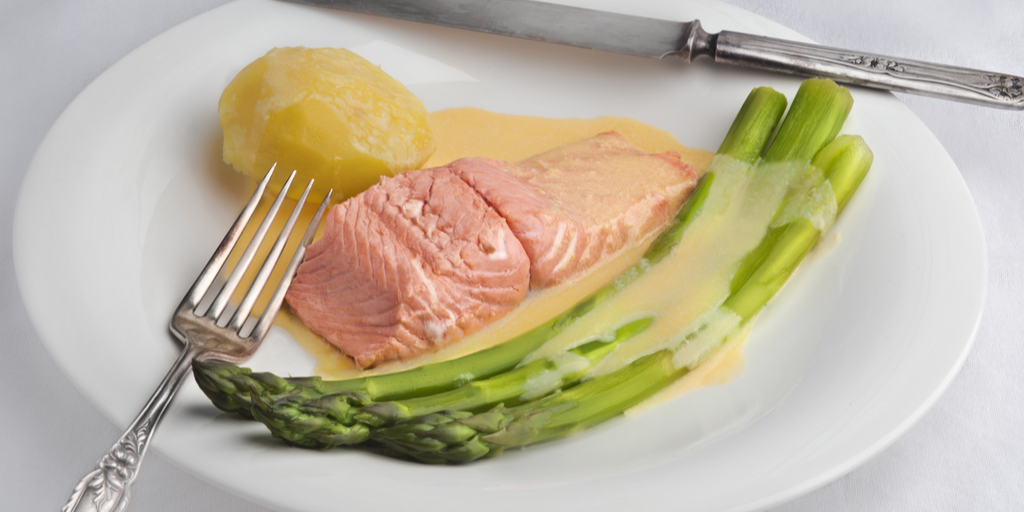 Poaching fish is a quick method that provides quite a flavorful meal. To shallow poach your trout, use a large skillet to sauté lemon slices and chopped up leeks in olive oil. Then add chicken broth and your salt and pepper seasoned trout fillets. Let them simmer for about eight minutes or until they turn opaque. 
In no time you have a tasty meal with a light flavor and lots of protein. Using chicken broth instead of water to poach the fish helps boost the flavor profile and not leave your fish tasting bland.
The full recipe can be found at Clean Eating.
7. Easy 20 Minute Oven Baked Trout Recipe
SPECIAL BONUS:
Recap: 7 of the Very Best Recipes for Trout Fish
From pan-fried to grilled to smoke to roasted to poached, there are many different ways to cook trout. Using a variety of seasonings will enhance the flavors of the fish and lemon juice is an especially popular ingredient of choice when cooking trout fish. No matter how you decide to make your next meal out of trout, choose a simple method that will tingle your taste buds.  Be sure to try these and let us know…which of these are your very favorite recipes for trout fish!!!
References
https://juliasalbum.com/trout-with-garlic-lemon-butter-herb-sauce/#recipe
https://thehealthyfoodie.com/grilled-whole-trout
https://honest-food.net/smoked-lake-trout-recipe
https://healthyeating.sfgate.com/trout-good-you-2923.html
For tips on finding trout to catch, check out our post.