If you're looking to go trout fishing in New Jersey, you'll find that there are lots of great places to go. The New Jersey Division of Fish and Wildlife stocks over 300 water bodies throughout the state with over 800,000 trout per year. You can catch lake, brown, brook, and rainbow trout in this state.
In this article, we will provide you with a map of all the New Jersey streams where you can trout fish. We will also review some of the best spots to go trout fishing in New Jersey and some tips for fishing in this state. Finally, we will clue you into the trout stocking schedule including winter stockings and where to find stocked trout.
New Jersey Trout Streams Map
Best Fishing Spots for Trout Fishing in New Jersey
In this ultimate guide to trout fishing in New Jersey, we'll review six of the best places to catch trout including Rockaway River, Raritan River, Lake Hopatcong, Musconetcong River, Big Flat Brook, and Pequest River.
Rockaway River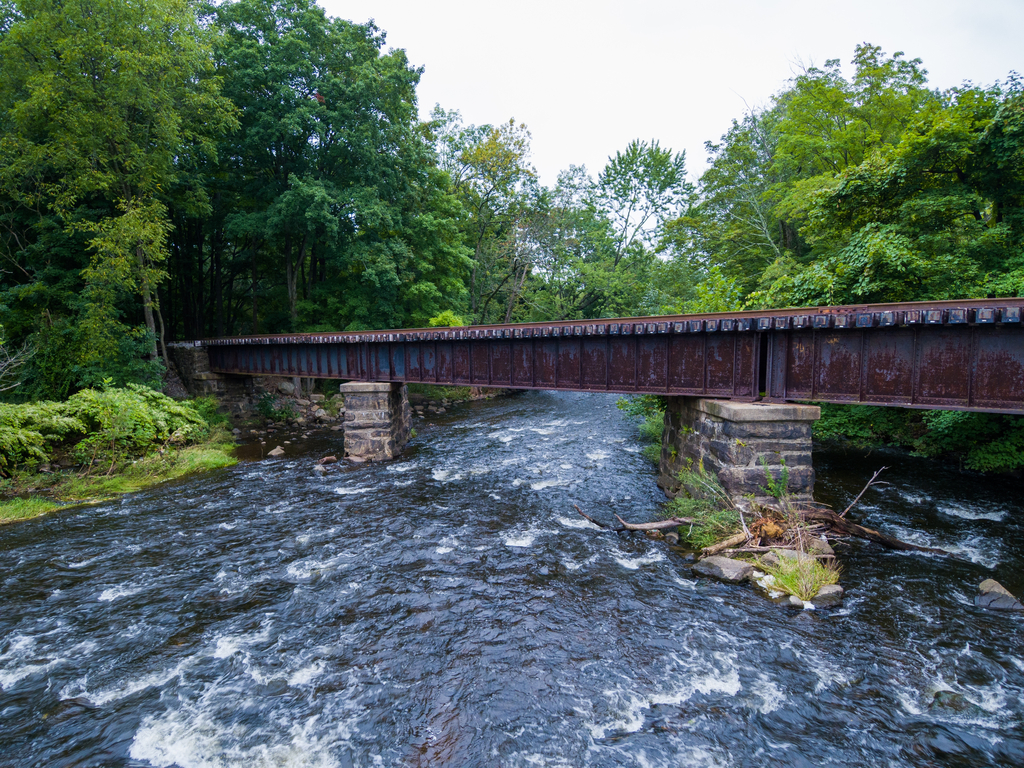 The Rockaway River is located in the northeastern corner of the state just northwest of Newark. Rainbow trout are abundant here, especially in the upper reaches of the river where the water tends to be cooler and deeper.
The best time to fish for trout here is early in the morning around sunrise. The best time of year to catch trout is in the spring. But, summer is not too bad as long as it's not too hot. Some parts of the river can be hard to access, but there are parks and access roads dotted throughout its length.
Nymphs are one of the best baits to use here. There are also hatches that occur such as caddis, mayflies, and stoneflies that would be helpful to imitate to land a good catch.
Raritan River
The Raritan River cuts across the northern part of New Jersey with Staten Island just across the New York border to the northeast. Given its length, the Raritan River is broken up into different sections of management. Throughout the entire river though, rainbow, brook, and brown trout can be found.
The rainbow trout are stocked in the spring and the fall, but the brook and brown trout are wild. Check which portion of the river you are fishing because in some parts brook trout need to be released and brown trout have size limits. Fly fishing is one of the most popular methods for catching trout in this river.
Lake Hopatcong
Lake Hopatcong is located in the northern part of New Jersey northeast of Hackettstown. This lake is annually stocked in the spring with over 9,000 trout from the Pequest Hatchery. Brown, rainbow and brook trout measuring ten and a half inches on average are abundant to catch early on in the trout fishing season.
New Jersey's largest rainbow trout was hooked in Lake Hopatcong weighing over thirteen pounds. Trout fishing in the summer here can be a challenge especially when the water heats up. They usually scatter to cooler creeks.
The most popular method of fishing Lake Hopatcong is with a rod and reel by boat. There are two public boat ramps and several marinas located around New Jersey's largest inland lake.
Musconetcong River
The Musconetcong River is 42 miles of awesome trout fishing located in the northwestern part of the state. It is known by many to be the best place to fish for trout in New Jersey. At forty to fifty feet wide in most places with some great shallows, fly fishing is the best method for fishing this river.
Nymphs, dry flies, and streamers are all successful when fishing for trout here. Spring is the best time to fish these waters, although it is also the busiest time. Fall is also a great time to angle for trout and winter can hook some decent catches if you continue to use nymphs and streamers.
Rainbow, brook, and brown trout both stocked and wild are found in abundance in the Musconetcong River due to its exceptional productivity and the fact that 19 trout-filled waters flow into the river itself.
Big Flat Brook
Big Flat Brook is located at the northern tip of New Jersey just south of the Pennsylvania border. This brook has some great wading access points and mostly boasts an abundance of rainbow trout. Fly fishing is very popular here with nymphs being the preferred bait.
Winter stoneflies and midges hatch here so using flies that mimic these insects during hatching season can yield a good catch. This waterbody can offer great trout fishing in any season, provided the brook isn't iced over in the winter. Spring and Autumn are the best times to fish here. Fishing the upper section throughout the summer is also very productive.
There is a four-mile section of Big Flat Brook that is catch and release only, so it's best to check where you are fishing before assuming you can keep your catch. About 36,000 trout are stocked every year in Big Flat Brook by the New Jersey Division of Fish and Wildlife.
Pequest River
The Pequest River is located in the northwestern portion of New Jersey. It flows from the Delaware River on the Pennsylvania border. This river has an abundance of deep cool water pockets and pools. These areas are perfect for fishing brook, rainbow, and brown trout.
The most notable feature of the Pequest River is the hatchery located here which is run by the New Jersey Division of Fish and Wildlife. All of the stocked trout come from this hatchery so fishing is abundant right near the hatchery's location. If you move down the river, you will find more opportunities to fish and less company from other anglers.
The best time to fish this river is during the middle of the day. As with most waters, spring is the best season to fish for trout in the Pequest River. Nymphs are the best flies to use for fly fishing here, particularly sulfur parachutes. On average, the trout caught here will measure at least a foot long.
There is a trout conservation area around the hatchery. It is only open seasonally so be sure to check the dates if you plan to fish here.
Tips for Fishing in New Jersey
If you want to fish for trout in New Jersey, first thing's first: you need to make sure you have a fishing license. All anglers over the age of fifteen, whether resident or non-resident of the state, are required to possess a valid New Jersey fishing license to fish in state waters. You also need a trout stamp in order to harvest trout.
If you're looking for trout, know what kind of water body you'll be fishing in. This will help you get the right kind of gear. For lakes and ponds, a rod and reel is usually your best bet. For rivers, streams, and brooks, fly fishing is a popular option.
If you are fly fishing be sure to stock up on flies that will be attractive to trout. Nymphs are the most popular for New Jersey waters. However, there are seasonal hatches of other insects such as midges, stoneflies, and caddis. Fishing with these during the right hatching season can give you a bonus chance of landing a big trout.
Most New Jersey waters offer the best trout catches in the spring when the water is cool. The trout are usually more active and the bulk of the stocking conducted by the Division of Fish and Wildlife occurs in the spring. Fall can also be a good time to fish for trout in New Jersey because the cooler water offers better fishing than the summertime.
New Jersey Trout Stocking Schedule 2022
All stocking trout are raised in the Pequest Trout Hatchery. It is run by the New Jersey Division of Fish and Wildlife. These fish are distributed to water bodies all over the state. Stocking occurs in three cycles: spring, fall, and winter.
Spring stocking occurs from March 21 through May 28 with over 750,000 trout stocked throughout the state. Fall stocking occurs the week of October 11 with over 20,000 trout stocked in about a quarter of the water bodies as spring stocking.
Winter stocking occurs November 21 and 22 with over 4,000 trout stocked in over a dozen ponds and lakes.
Trout Stocking Locations
Trout stocking occurs three seasons throughout the year. These fish are stocked in 336 bodies of water throughout the state of New Jersey. For a full list of trout-stocked water bodies either by name or grouped by county, check out the New Jersey Fish and Wildlife website.
Winter Trout Stocking
Winter trout stocking occurs the Monday and Tuesday before Thanksgiving. Over 4,000 trout are stocked in 18 different ponds and lakes throughout the state. They are usually at least two years old and measure 15 inches on average. This makes for great fishing throughout the winter season.