Any person sixteen or older, whether resident or non-resident, is required to possess an Arkansas fishing license when fishing in Arkansas state waters. Prices for each type of license are broken down by resident and non-resident cost below.
| | | |
| --- | --- | --- |
| License Type | Resident Price | Non-Resident Price |
| Annual | $10.50 | $50 |
| Seven Day | N/A | $25 |
| Three Day | $6.50 | $16 |
| Lifetime | $1000 | N/A |
| Trout Permit | $10 | $20 |
| Alligator Gar Permit | Free | Free |
For individuals who serve as fishing guides for hire, they must obtain a special fishing guide license to fish in AR waters. Staying with residents, a fishing guide license costs $25, for non-residents it costs $150.
AR residents who do not possess a non-resident Missouri fishing license but fish in the Norfork Lake, Bull Shoals Lake, or Table Rock Lake, can get a White River Border Lakes license for $10.
AR residents who are permanently and totally disabled may obtain a reduced rate three-year fishing license for $10.50 or a three-year combination fishing and hunting license for $35. Mobility impaired individuals restricted by permanent respiratory conditions or an inability to walk independently may obtain an AR fishing license at no cost to them.  
Arkansas Fishing License Online
You can purchase a fishing license online through the Arkansas Game and Fish Commission's online licensing system. This site prompts you to create an account from which you can pay for and print off your valid fishing license.
Disability, commercial, and residential lifetime fishing licenses cannot be purchased online due to documentation requirements which must be presented in person for purchase at the Arkansas Game and Fish Commission Headquarters.
Arkansas Fishing License App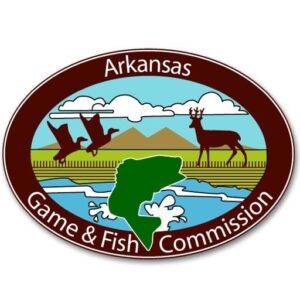 The Arkansas Game and Fish Commission offers a free mobile app. It is available for download from the Google Play Store or the Apple Store. This app allows you to download and carry a digital copy of your Arkansas fishing license. This helps so that you do not have to possess a paper copy.
Arkansas Fishing License Requirements
The state requires a fishing license from any angler fishing in state waters, except for designated "put-and-take" lakes that are already licensed. If an angler is fishing for and intending to keep trout from any Arkansas water body, he/she must possess a trout permit.
Trout permits are also required for catch and release anglers fishing in Bull Shoals Lake, Greers Ferry Lake, Spavinaw Creek east of Highway 59, Lake Greeson, Norfork Lake, and the tailwaters below Beaver Lake.
An alligator gar permit is also required in order to fish for that species in Arkansas waters. To keep any alligator gar exceeding three feet in length, you'll need a trophy tag.
Arkansas Fishing License Age
Any person above the age of fifteen must possess a valid Arkansas fishing license in order to fish in Arkansas waters. AR residents who are older than 64 years of age can obtain a lifetime fishing license, combination fishing and hunting license, or a lifetime trout permit at a reduced cost.
For an in-depth look at fishing in Arkansas, check out our article.