Any angler older than fifteen years of age must possess a valid Yellowstone National Park fishing license to fish in park waters. State fishing licenses from Montana, Idaho, or Wyoming are not required or valid in the park.
Purchase Yellowstone National Park fishing licenses as three-day, seven-day, or season permits for $40, $55, or $75, respectively.
In this article, you will learn how to purchase a Yellowstone fishing license online, what the park's fishing regulations and season dates are, as well as some great spots to fish.
Online Yellowstone Fishing License
Buy your Yellowstone National Park fishing licenses online at recreation.gov. This purchase will generate a digital park activity pass that allows you to access your fishing permit on your phone. This is nice instead of keeping a paper copy on your person while fishing in the park.
Yellowstone National Park Fishing Regulations
All anglers older than fifteen must be in possession of a valid park fishing license when fishing in park waters. Anglers younger than sixteen must be in the presence of a license holder or have the signed permission of a parent or guardian.
Harvesting of Arctic grayling, cutthroat trout, and mountain whitefish are not permitted and all caught individuals from these species must be thrown back. Nonnative lake, brown, rainbow, brook, and hybrid trout species can be caught and kept without limit.
In native trout conservation areas, any trout species that is not cutthroat trout cannot be released alive. They have to be killed. There are possession limits for nonnative trout in certain nonnative trout tolerance areas.
All anglers may only fish with one rod and must use barbless hooks for angling. The skin may not be removed from harvestable catches so that authorities may identify them if questioned. Entrails may be removed but can only be disposed of in the waters where the fish was caught. If not, they must be thrown away in enclosed park trash cans.
Yellowstone Fishing Season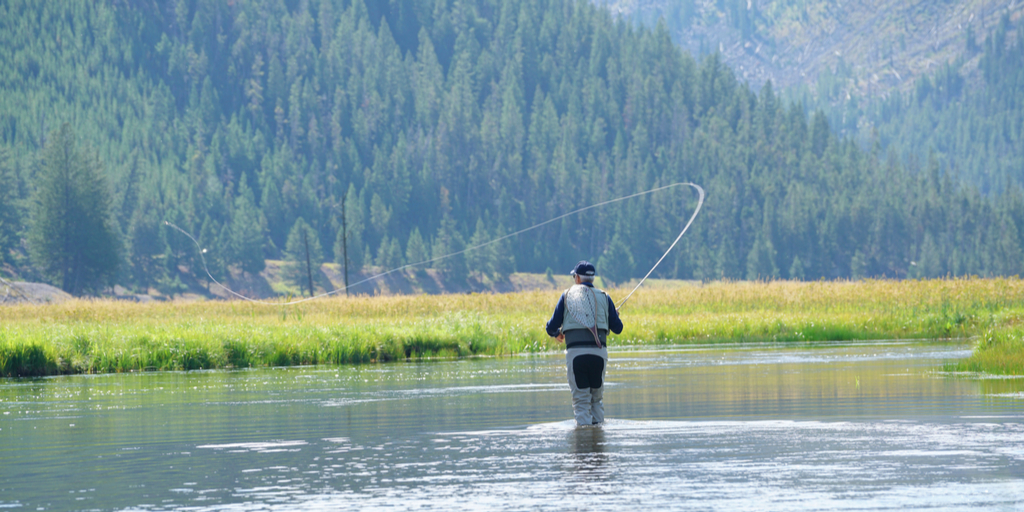 The fishing season in Yellowstone National Park opens on Saturday during Memorial Day weekend. It lasts through the first Sunday of November. During the season, fishing may occur from sunrise until sunset.
Check the park's website for area closures. Be especially aware of streams that may be affected by high-temperature waters or low water levels.
Great Places to Fish in the Park
Some of the best spots to fish in Yellowstone National Park include Yellowstone River, Slough Creek, The Bechler Region, and Firehole River.
Yellowstone River is one of the best places to fish for the iconic cutthroat trout. The Fishing Bridge provides a great spot to set up your rod.
Slough Creek has a conveniently located campground and offers 25 miles of fishing along the northern side of Wyoming's part of the park.
Likely not crowded with tourists, the Bechler region in the southwest corner of the park offers a rare glimpse of untouched waters.
Firehole River runs north to south along the western part of Wyoming. It contains lots of species of fish to catch while you sit back and watch bison cross the river.