If you are planning on trout fish in Georgia, this ultimate guide to the best fishing spots is the number resource to hooking a prize winner. With rainbow, brook, and brown trout found throughout the state, some of the top-rated waters to catch a trout in Georgia include the Toccoa River, Chattahoochee River, and other lakes and rivers mostly located in northern Georgia.
In this guide, we will provide you with a full map of all the places to fish for trout in Georgia. We will also break down the best fishing spots in the state, both in northern Georgia and other spots. Finally, we will give you some recommendations for camping grounds located near some of these excellent trout fishing spots so you can sleep where you fish.
Georgia Trout Fishing Map
Best Trout Fishing Spots in Georgia
Georgia has some abundant trout waters and offers unique fishing opportunities in the mountains, near Atlanta, and within the Chattahoochee National Forest. Most of the best spots to fish for trout are in the northern part of the state, although more southern waters including the Chattahoochee River have trout fishing that is hard to beat.
North Georgia
North Georgia has some of the best spots for trout fishing in the state. The Toccoa River, Lake Rabun, Lake Seed, and the Blue Ridge Dam all offer excellent places to catch a prize-winning trout. Blue Ridge and Helen are also towns that host a number of streams and ponds where trout are popular to catch.
Toccoa River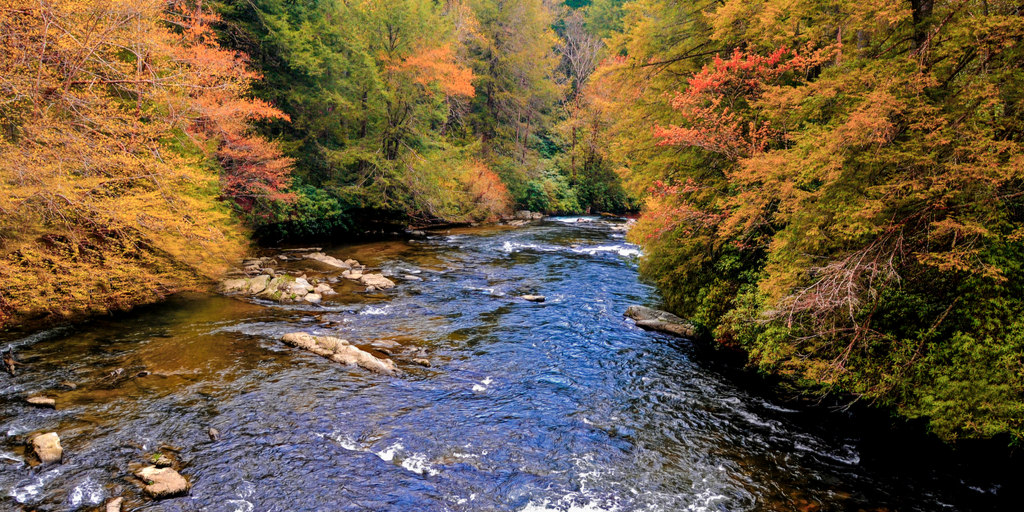 The Toccoa River flows through the Chattahoochee National Forest in the middle of North Georgia. It is one of the top-rated Georgia waters to fish for trout. Mostly stocked with brown, rainbow, and brook trout, the average catch measures around a foot in length with some species up to two feet.
The is no bad time to go trout fishing in the Toccoa River, but spring through fall seems to offer the most lucrative catch rates. Float fishing and wading are the two most popular methods of fishing this river.
Float fishing can pose a bit of a challenge, though, due to few access points. Your best bet for wading is to hike a little further from the trail to reach a spot that no one else is fishing.
Helen, Georgia Trout Fishing
Located on the southern edge of the Chattahoochee National Forest is the town of Helen, Georgia which has some spectacular trout fishing opportunities. Duke's Creek is a haven for wild brown and rainbow trout. It features a gorge that can be hard to access but just means that there are fewer anglers there with which to compete.
Smith Lake is another great place near Helen to fish for trout. The lake offers rainbow, brook, and brown trout, but you can only fish with artificial lures. The season for harvesting in this lake is May 15 to October 31; otherwise, it is catch-and-release only.
Blue Ridge, Georgia
Known as the trout capital of Georgia, Blue Ridge is located in Fannin County and has a number of excellent places to fish for trout including Cooper Creek, Rock Creek, and Noontootla Creek.
Cooper Creek and Rock Creek are regularly stocked with rainbow trout and it's rare not to hit your daily bag limit fishing in either of these bodies of water. Real bait works best here, and fly fishing is the preferred method in this area.
Brown and rainbow trout are found in abundance in Noontootla Creek and usually grow fairly large. Fly fishing is the best way to catch these prizewinners. Some portions of the creek are catch and release only so it's important to check regulations before you go fishing.
Blue Ridge Dam Fishing
At the base of the Blue Ridge Dam lies Lake Blue Ridge which offers some spectacular rainbow trout fishing. Fishing from shore is the most popular method, although there is canoe access to reach some of the deeper cold water portions of the lake. Brown trout can also be found here.
Most portions of Lake Blue Ridge shoreline are privately owned so be sure to use only public access points to fish unless you have express permission from property owners.
Lake Rabun

Located in northeastern Georgia, Lake Rabun is a manmade lake that boasts an abundantly stocked population of rainbow trout. The largest trout on record caught in Lake Rabun weighed over seven pounds. Lake Rabun is perfect for fly fishing and the rainbow trout bite almost all year round.
Late summer and fall tend to be the best times of year to catch trout though as that is when the colder waters are more abundant and the trout are feeding for longer in the shallow waters.
Lake Seed
Another manmade lake near Lake Rabun, Lake Seed has a generous brown trout population. Fly fishing is the best method for catching these. During the summer which is the most time of year to fish here, the best time of day to angle for trout is in the early morning when they're inhabiting the shallow waters.
As the day warms up, the trout will move to deeper waters to stay cool. Late summer and fall are the best times to fish here.
Everywhere Else in Georgia
Although North Georgia boasts some of the best trout fishing in the state, other areas also provide fantastic catch opportunities. The Chattahoochee River, Etowah River, and Lake Lanier are a few of the trout waters located around or south of Atlanta. Trout are not as commonly found south of northern Georgia, but these waters provide exceptions to the rule.
Chattahoochee River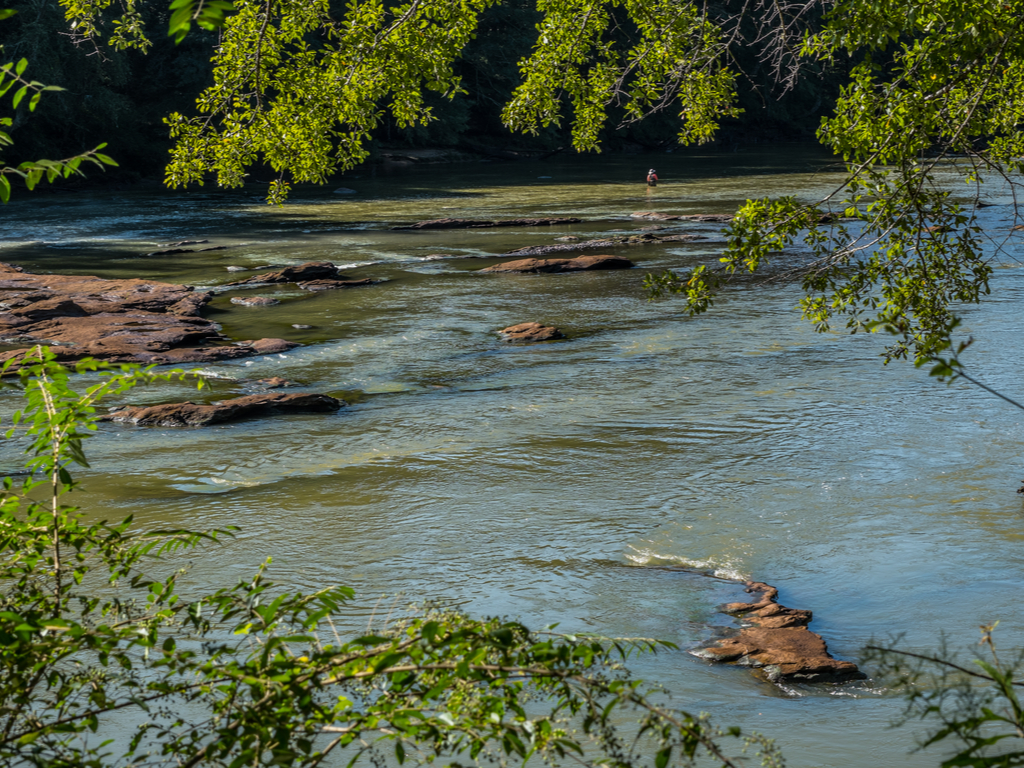 The Chattahoochee River represents the most southern trout waters in the United States. It holds the state record for producing the largest brown trout weighing almost 21 pounds. Brown and rainbow trout are stocked here by the Department of Natural Resources so there are trout in abundance to fish.
Boat fishing and fly fishing are popular for catching trout on the Chattahoochee River and a very of bait and lures are used, although the more natural ones seem to fair better. There are a plethora of river guides and the river itself offers over 400 miles worth of length for fishing.
Etowah River
The Etowah River just outside of Atlanta offers great trout fishing during its season which runs from the end of March to the end of October. Fly fishing is the best method to use here. Due to the fast-running waters which can either be clear as crystal or murky from storm activity, brightly colored lures often work best for catching trout here.
Flashy, sparkly lures or larger bait types are also useful to attract the trout which seem to hide particularly well in the shallow waters of the Etowah River.
Lake Lanier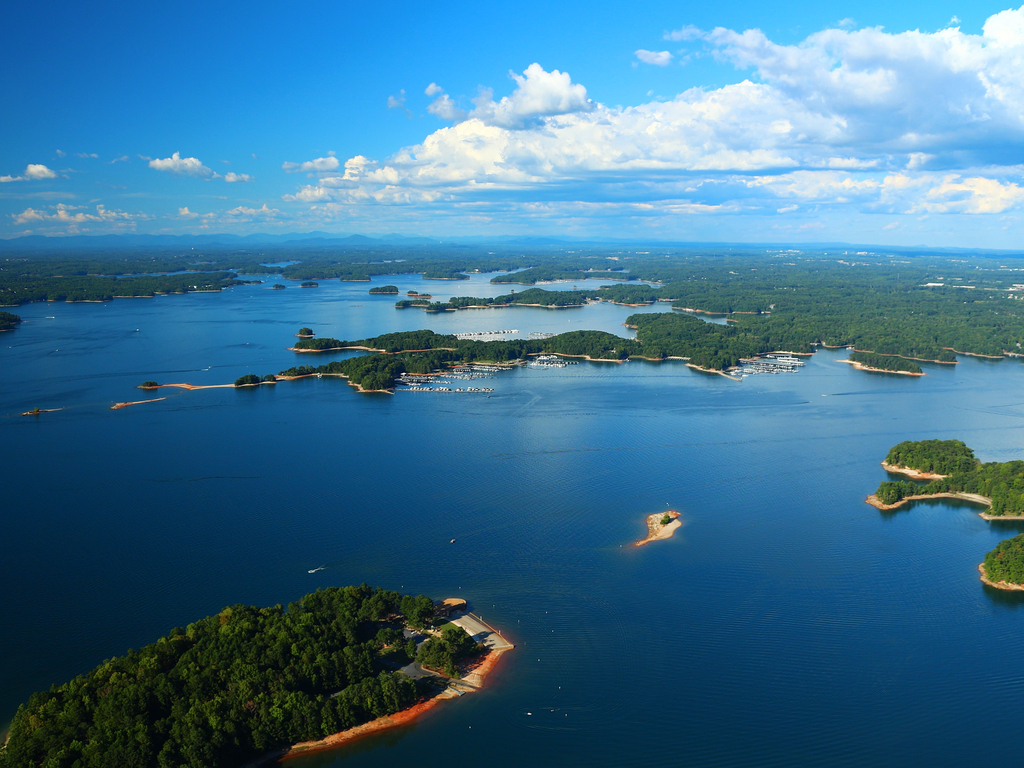 Although Lake Lanier is no longer being stocked with trout by the Department of Natural Resources, that doesn't mean you don't have the chance to make a prize-winning catch. Resident trout that have escaped capture are likely growing large in Lake Lanier as evidenced by a nearly nine and a half pound rainbow trout caught here in recent years.
Trout Fishing and Camping in North Georgia
If you're looking for more than just a fishing experience, check out some of these awesome campgrounds to set up your tent. Then you could catch some trout during the day and roast it over a campfire in the evening. Chattahoochee National Forest, Deep Hole Campground, and Frank Gross Campground offer the best of both worlds – trout fishing and camping.
Chattahoochee National Forest
The Chattahoochee National Forest not only plays host to some of the best trout fishing spots in Georgia such as the Toccoa River and all of its tributaries but also has a plethora of camping opportunities. Traditional campgrounds, RV campsites, and cabin rentals are dotted throughout the National Forest offering many ways to fish and spend the night.
Group camping and dispersed camping options are also available in the Chattahoochee National Forest.
Deep Hole Campground
The Deep Hole Campground is located near Blue Ridge and offers nearby access to Cooper Creek for some amazing trout fishing. This campground requires reservations but is the perfect camping getaway to spend a few nights in nature and a few days on the water hooking some tasty trout.
It is about half an hour from the nearest town so make sure you've got all your supplies before setting up for the night. This natural haven is open all year round, so whether you like summer camping or winter camping, you are good to go.
Frank Gross Campground
The Frank Gross Campground is a unique place to overnight set in the North Georgia mountains near Rock Creek which offers fantastic trout fishing. This campground is only open April through November but is well worth taking advantage of. It is a first come first serve campground, so get there early to claim your spot.