A dream to many fishermen, when you are fishing in Lake Erie, you'll find some of the most beautiful, big fish you'll ever have the pleasure of catching. Knowing the best season to catch fish, where, what permits you need, and gear is essential. 
Lake Erie is home to many beautiful species of fish, including trout, one of the most popular sport fish found throughout. Read on to find out what fishing in Lake Erie is like, what licenses, permits, and fees are associated, and more!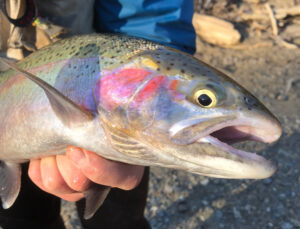 Fishing in Lake Erie
If you're looking for a place to fish in the United States, Lake Erie is worth a look. It's one of the five Great Lakes and has excellent fishing opportunities year-round.
The lake is also known as "The Dirty Water" because it has so many nutrients that it sometimes looks like chocolate milk.
Several fish species live in Lake Erie, including walleye, perch, and trout. Trout are popular with anglers because they're easy to catch and have delicious white flesh that tastes like chicken when cooked.
Many different techniques can also be used for fishing in Lake Erie, including trolling with lures or baitcasting reels with spin cast rods.
Fishing in Lake Erie can be done from a boat or right off the shores and docks of many lakeside towns. Many bait shops around town sell live minnows and worms for you to catch your own fish. If you prefer to cook fish at home, a large selection of restaurants all over the Erie area serve fresh Lake Erie walleye.
Trout Fishing License for Lake Erie
Whether new to Lake Erie fishing or a seasoned pro, you must know that you need a fishing license there.
These licenses can be purchased at various locations around the lake, including bait shops and boat launches, or online via the Ohio Department of Natural Resources website, the Pennsylvania Fish and Boat Commission website, or the New York Department of Environmental Conservation website.
There are two types of licenses: day and season. A day license is suitable for one day only, while a season pass is good for up to six months' worth of fishing (although it must be renewed yearly). If you'd like to fish in a specific county or state, those licenses are available too!
Here are some of the licenses you can obtain by each state: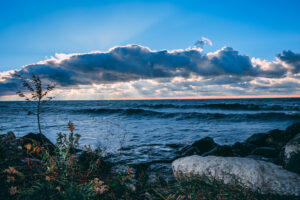 Ohio
When looking to get a fishing license in Ohio, here are a couple of licenses you can look into:
Youth License: although persons under 16 do not need to purchase a license, you can buy a Resident Youth Lifetime License.
Resident Licenses: There are many options to choose from when selecting a resident license, including one-day licenses, to resident lifetime licenses.
Resident Senior Licenses: For senior citizens.
Nonresident Licenses
Ohio offers multi-year fishing licenses to residents only, allowing them to skip the transaction fees every year.
There are several license requirements associated with applying, which you can find on the official website.
Pennsylvania
Pennsylvania offers both yearly fishing licenses and multi-year fishing licenses. Here are a couple of the types of licenses they offer:
Voluntary Youth License
Resident License
Senior Resident License
Nonresident License
Nonresident PA Student License
1-7 Day Tourist License (Prices vary)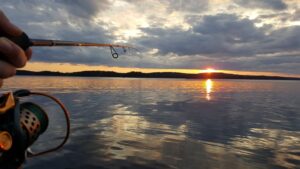 New York
New York offers fewer options when it comes to licenses but offers reduced fee annual licenses if you happen to be active duty military, a military veteran with a disability, a senior citizen, legally blind, or a nonresident attending a New York College.
They also offer:
Annual License
7-Day License
1-Day License
Lifetime License
There are multiple situations in which you do not need a license to fish in New York. They can be found on the New York Department of Environmental Conservation website.
The website also specifies that you cannot fish on a non-NY potion of border waters on Lake Erie with a New York license.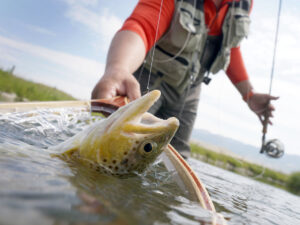 Trout Fishing Permit for Lake Erie
Trout fishing permits for Lake Erie may vary depending on your state. Here is a small breakdown of the permits available in each state.
Ohio Trout Fishing Permits
A Trout Fishing Permit is required for anyone 16 years or older fishing in Lake Erie.
The cost of a Trout Fishing Permit is $10. It can be purchased at any Ohio Division of Wildlife regional office, at www.wildohio.gov, by calling 1-800-WILDLIFE (945-3543), or at license retailers throughout the state, including bait shops and sporting goods stores that sell hunting and fishing licenses.
The Ohio Division of Wildlife (ODW) issues two types of trout fishing permits:
Resident Annual Trout Fishing Permits are valid through December 31 each year; they must be renewed every 12 months.
Nonresident Annual Trout Fishing Permits are valid through December 31 each year. They must be renewed every 12 months unless purchased with an annual nonresident hunting license or lifetime sportsman's license. Those will allow you to keep your permit indefinitely without further renewal requirements beyond your initial purchase date.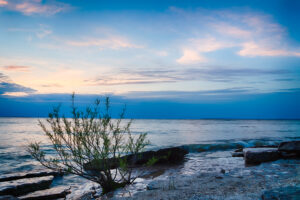 Pennsylvania
Pennsylvania offers multiple different options when it comes to trout fishing permits:
Mentored Youth Permit
Trout Permit
3, 5, or 10 Year Senior Lifetime Trout Permit
Lake Erie Permit
Combination Trout Lake Erie Permit
New York
Although New York has a lot of license information, they do not specify a need for specific permits.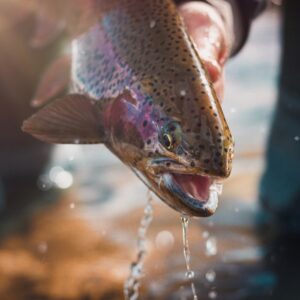 Trout Fishing Fees for Lake Erie
If you're planning to fish in Lake Erie, you'll encounter several fees, especially when applying for licensing and permits. Here are a few of the fees that you can expect when you plan to fish in Lake Erie:
License: the basic freshwater fishing license costs $13 annually or $12 for six months, depending on where you get your license.
One-day permit: A one-day permit costs $10 and allows you to fish anywhere within the state's claimed jurisdiction, including Lake Erie and tributaries.
Resident senior citizen's annual fishing permit: costing $6 depending on where you obtain it, allows holders 60 years old or older to fish during any season except spring spawning periods (March 15 through May 15) when only artificial lures may be used
Inland lakes/ponds permit: costing $7, allowing holders 16 years old or older with other valid licenses to pass through locks along channels connecting inland water bodies with Lake Erie.
Recommended Gear for Trout Fishing in Lake Erie
The recommended gear for trout fishing in Lake Erie includes:
· Reels, rods, and lines. You'll need two types of reels for your rod: one for casting and another for trolling. A spinning reel is best for casting, while a baitcaster works better when using live baits or large lures to catch bass or walleye.
· Lures. When choosing lures, look at the size and shape of the fish you want to catch—and think about where they'll be hiding! Baits that sink to the bottom should have different weights than those that float just above it (like topwater plugs).
· Bait. You can use live bait or artificial lures but remember that one is more effective than the other. If you're going after trout in Lake Erie, try using a small minnow or night crawler on a 1/4-ounce jighead for best results; if you're fishing for bass or walleye, try using something like a plastic worm or stickbait instead.
When picking which lures will work best on your next fishing trip, consider what time of day it is, how deep the water is where you're fishing, and whether there are other types of bait around that may attract more attention… The list goes on!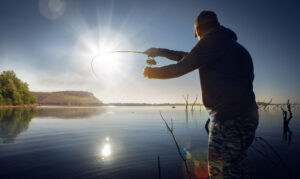 Types of Bait Used in Lake Erie
Many different types of bait are used in Lake Erie and the surrounding areas. Some common types include:
Worms
Crickets
Minnows (live or dead)
Mice (dead)
These are just a few examples. The best way to find out what's working is by asking other fishermen and checking their catches from the day before. You should also check local bait shops for information on what type of bait is working best in your area then, as well as different techniques for catching specific fish species.
Fishing Season for Lake Erie
Fishing season for Lake Erie is from April to October. Trout season is from April to June, and then steelhead season runs from November to March. Salmon season is from March to October. Fishing in Lake Erie can be done by boat or shoreline, but it's best to keep an eye out for the weather conditions before you go.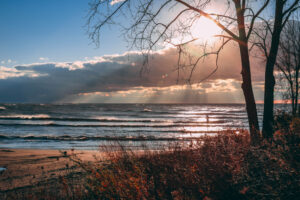 Types of Fish Found in Lake Erie
The vast majority of fish caught in Lake Erie are trout, walleye, and perch. Trout and walleye are the two most popular sport fish in the lake and can be found throughout the lake, but they tend to be more plentiful in certain areas.
Carp are also common in Lake Erie, although they're not typically fished for sport. Bass, pike, whitefish, and other species live in deep water areas or on reefs that aren't accessible by anglers.
Final Thoughts: Fishing in Lake Erie
Lake Erie is one of the best places to fish, especially if you want to catch big, photo-worthy trout.
As one of the five Great Lakes, Lake Erie has excellent opportunities year-round, but you must be sure that you have the proper licensing, permits, and gear to do so.