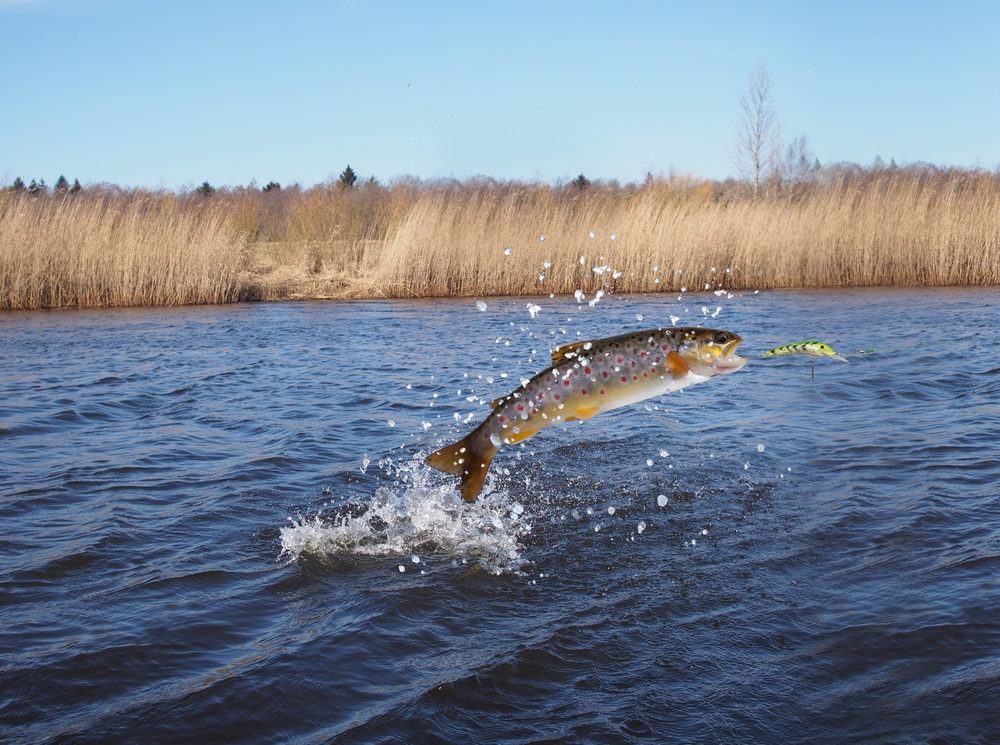 How to Fish for Trout in Lakes
One of the great joys of learning how to fish for trout in lakes is standing in waist-deep water, connecting with nature, and casting your line. The greatest joy is when you get your first bite. Welcome to trout fishing in lakes and streams. 
Trout fishing can be rewarding when you learn the basics. It takes a bit of knowledge to learn different setups and how to find trout in a lake or stream. 
Let's look at all the equipment, casting, and basics of rigging to fish for trout in lakes.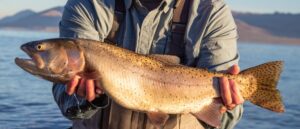 Basic Trout Fishing Gear
We will cover some necessary and optimal gear for the next trout fishing trip.
A good medium-action spinning or casting rod about 6 feet in length is a good starting point to fish for trout in lakes. 
Insulated waders will keep you warm and dry in the cold waters while protecting you from any snakes or bugs in the water. 
A lightweight breathable fishing vest will allow all of your gear to be kept on you without having to lug a tackle box out in the cold waters. 
Most landing nets are plastic coated, snag-free, and have a lanyard to attach to either your vest or waders. The hooks can be small, and trout can be slippery, making the landing net an invaluable tool to retrieve your fish. 
Tackle boxes carry all the extra gear you need including lures, bobbers, sinkers, hooks, line, and everything else you will need to continue fishing. A well-constructed tackle box with plenty of storage is worth its weight in gold to any fisherman.
A spool of 4-8 lb test line will be plenty to handle trout fishing and most other fish found in freshwater lakes.
Sinkers come in various weights and sizes. Bullet and split shot sinkers are essential when setting up your fishing rod for trout.
You will need a range of hooks between sizes 6 to 12. Size 6 is useful for worms and nightcrawlers, and the smaller size 12 is suited for natural baits.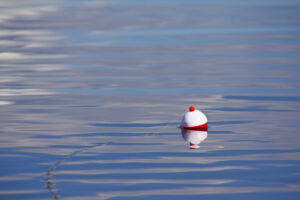 Bobbers:
There are 3 main bobber types: slip, fixed, and bubble. 
Fixed bobbers attach to a single point on your line.
Slip bobbers move up and down your line allowing for casting further and deeper fishing.
Bubble floats attach similar to slip floats but can allow for a longer cast and more versatility while fishing. 
Lures such as spinners, spoons, jigs, and crankbaits are effective at catching trout. 
Swivels are small metal rings with a pivot in the middle. Swivels with snap-hooks help in quickly changing your bait and keep your line from becoming twisted. 
A small set of needle-nose pliers will assist in removing hooks, and a pair of cutters will be essential if you need to cut a hook or line while fishing. 
Natural and artificial bait can be used to catch trout. Nightcrawlers are a good example of natural bait. Artificial bait will closely mimic natural bait and be scented or come in bright colors to attract trout.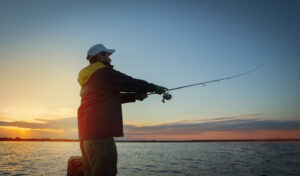 How to cast a fishing rod:
Casting a fishing rod can be difficult but easily mastered with just a little bit of practice. Let's cover the basics of casting a fishing rod:
Hold the rod waist high pointed towards your intended cast area.

Release line holder keeping the line held with your index finger for a spinning rod. Casting rods have a button that is depressed and held until ready to release the line. 

Ensuring the area around you is clear, bring the rod back over your head. 

Bring the fishing rod smoothly forward, releasing the line or button as the rod passes an upright position and descends toward its target. 
Steps for tying rigging
Run the line through the eye of your hook.

Pull about 3 in of line through and hold it against the hook.

Wrap around the hook and line seven times below the eyelet still leaving a loop at the hook. 

Release the loop and pass the line through it. 

Holding both ends of the line pull tight and cut off any excess. 

Attach your bobber on your line to the depth you want to fish.

Attach split shot weights to the line above the hook.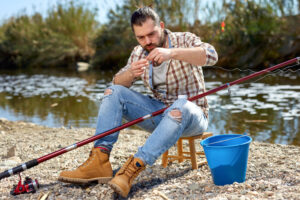 Types of trout rigging 
There are three basic categories of rigging for Trout. They are: 
Rigging under a bobber

Rigging close to the bottom weight 

Rigging for casting and retrieving
Rigging under a bobber
This is one of the simplest rigs and is best used in shallow ponds and streams. It is easy for a beginner to set up but is limited in the depth you can fish.  
Slip bobber rigging is very common for fishing mid-water areas that the rig bobber set up can't reach. It is also a very versatile setup for fishing at multiple depths.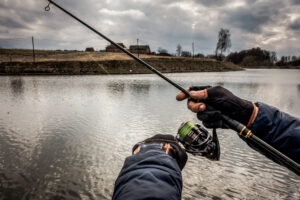 Rigging close to bottom weight
This is the simplest bottom fishing rig. It is best used with a floating bait. It is best for lakes deeper than 5 feet.
The Carolina rig is very similar to a slip sinker but uses artificial bait. It is used to fish the bottom of lakes and ponds but is effective in streams also.  
Split shot rig is a version of the Carolina rig and used in hard-to-catch or high-fished areas. It is hard for the fish to spot and very effective in smalls creeks. 
This rig is effective at keeping your bait in the feeding area for a longer time. It is best off a boat but can be used in shallow waters when the trout are bottom feeding. 
Rigging for casting and retrieving
Spinner rigs are the most versatile rig and can be used in shallow streams to deep lakes. Cast the spinner out and slowly retrieve it to attract the fish. 
This rig is the easiest to build and ideal for bottom fishing in and around vegetation. Allow it to sink to the bottom and slowly bounce it while retrieving.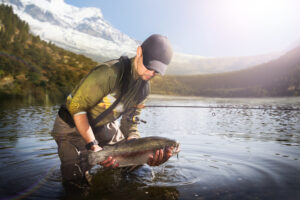 Conclusion
The basics to fish for trout in lakes can be learned in an afternoon but can take a lifetime to master. Hopefully, now you have a basic understanding of what is needed to begin your journey into trout fishing. The rest of the lessons are in waist-deep water as you fish for trout. Happy Fishing!