Some of the best trout fishing can be done on the Arkansas White River! The White River is renowned for its abundance of these delectable fish, making it the perfect spot for a day out. Whether you're an experienced angler or a novice looking to learn more about trout fishing, this river offers plenty of opportunities to catch your limit. With the right equipment and preparation, anyone can take advantage of the plentiful supply of trout that inhabit these waters. In this article, we will explore an introduction of trout to Arkansas and the different species of trout found in the White River. We also touch on the best locations to catch them, the right equipment to use, and where to get local, expert advice. So grab your gear and let's get started!
The History of the Trout Fish and the White River
Trout fishing has a long and storied history in the state of Arkansas, particularly in the White River. The White River is known for its clear waters and strong currents, making it an ideal habitat for trout. However, before the 1950s, there were no trout populations in the river.
In 1955, the Arkansas Game and Fish Commission began stocking rainbow trout in the upper reaches of the White River. This was apart of an effort to create new recreational opportunities for anglers. The initial stockings were successful, and by 1960, the commission was stocking more than 100,000 trout annually.
Over time, brown trout were also introduced to the river. Today both rainbow and brown trout can be found throughout the length of the White River. Though the brown trout can reproduce successfully, regular stocking of rainbow trout is required to maintain abundant populations in the river.
Fishing has become a major economic driver for many communities along the White River. The White River attracts tourists who come specifically to fish for trout. Local businesses such as hotels, restaurants, and outfitters have also thrived thanks to increased angling activity.
However, there have been concerns about overfishing and a declining water quality in recent years. As a result, conservation efforts are underway to protect this valuable natural resource for future generations of Arkansans.
What Species of Trout are Found In the White River?
The White River in Arkansas is home to an abundance of trout species! This makes it an exciting destination for anglers looking for a variety of fishing opportunities. The most common types of trout found in the river include Brown Trout, Rainbow Trout, Cutthroat Trout, and Brook Trout.
Brown Trout are one of the largest and most sought-after species in the White River. They can be found lurking around shallow pools and deep runs, usually preying on smaller fish. Rainbow Trout are also plentiful in the river and tend to prefer colder water temperatures of about fifty degrees Fahrenheit. Cutthroat Trout offer a unique challenge as they require anglers to use more finesse when catching them. Lastly, Brook Trout tend to be smaller than the other varieties, but can still put up a fight when hooked.
The Right Equipment for River Fishing
If you're planning on trout fishing on the White River in Arkansas, you'll need a few essential pieces of gear. Generally speaking, you'll want a 9-foot fly rod and reel loaded with 8-pet weight with ceramic disk drags system. You'll also want to invest in quality waders and boots, a good hat and polarized sunglasses. Also multiple leaders and various types of tippet materials is important. Don't forget lures or flies, casting practice, and a sturdy tackle box! In addition to the right equipment, you'll also want to gather detailed information about the river and its fishing regulations. Make sure you know when and where you can fish, and what type of bait or lures are allowed. Size or bag limits should also be researched before beginning your trip.
Where Are the Best Locations to Trout Fish along the White River?
With fishable waters stretching over 100 miles, there are many awesome spots to fish on the White River in Arkansas! Some favorites include Spring Creek, Crooked Creek, Bull Shoals Lake Tailwater, Beaver Tailwater, Norfork Tailwater, and Greers Ferry Lake. Each location provides exceptional conditions where any angler is bound to have a blast reeling in brown and rainbow trout.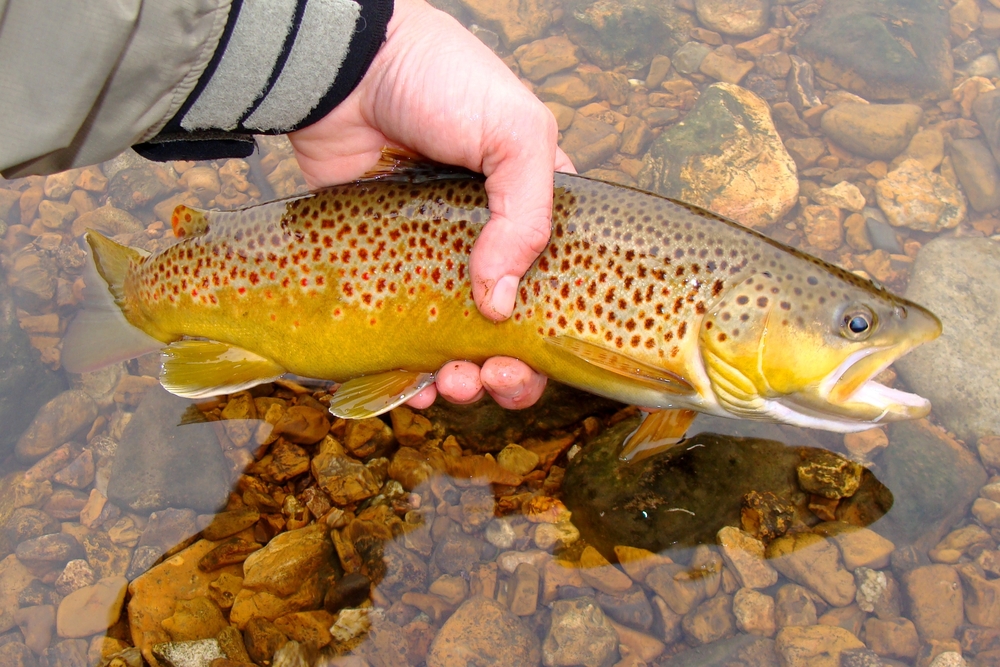 Where to Find Local Resources and Expert Advice
Fishing the White River in Arkansas can be a rewarding and exciting experience. But it's important to be prepared before heading out. Fortunately, there are plenty of local resources available to ensure success. Local bait shops can provide insider knowledge on the best spots for trout fishing and what lures may work best in the area. If you're looking for something more comprehensive, many guides offer their services in this region. This can be incredibly helpful for novice fishermen especially. 
The Arkansas Game and Fish Commission can provide you with permit information and additional resources. Their contact is as follows: Phone: (Toll Free) 833-345-0325; Email: [email protected]; website;  Address: 2 Natural Resources Drive, Little Rock AR 72205. 
Wrap Up
The White River in Arkansas is a great place to go trout fishing. With its diverse landscape and plentiful water sources, anglers have the opportunity to catch several species of trout. The best time of year to do some trout fishing on the White River is November. The fall is when brown trout make their spawning runs below Bull Shoals and Norfork dams, making this an ideal spot for tying on a lure. With all of this taken into consideration, there's no better way to spend your free time than fishing White River's waters for beautiful freshwater Trout.