Some of the best ways to cook freshly caught trout include pan-frying, grilling, baking, and poaching. To pan fry, it's as easy as coating a filet lightly in flour and frying the fish in butter or oil over medium-high heat in a skillet. Grill the trout in aluminum foil with veggies, such as peppers and onions. Baking is perhaps the healthiest cooking method; wrap the trout in foil with seasonings like lemon juice and fresh herbs for flavor. You can also poach or steam the trout by bringing a pot of water to a boil on low-medium heat and adding filets before covering and simmering for 10 minutes. Each person's palate and preference is different, so you'll want to explore different cooking methods and recipes to determine for yourself what's the best way to cook trout. Before cooking commences, a couple of important questions must be answered.
What Does Trout Taste Like?
Trout is a fish that appeals to almost everyone due to its mild flavor which is similar to salmon. It has pink meat with a delicate texture, making it a popular choice for many people. The best way to cook trout and enjoy its delicious flavor is to have it when it's fresh. Baking is the most common (and healthiest) cooking method for trout, as this will help bring out its unique flavor while also preserving its delicate texture. Grilling or pan searing can also work, although these methods tend to be more high-heat methods and require careful handling of the fish in order to not overcook or dry it out.
To Skin or Not to Skin? That is the Question
Depending on your cooking preferences, it is not necessary to remove the skin before cooking a trout. Some people prefer to cook the trout with the skin on for added flavor and texture. However, if you'd like a more crisp and golden exterior, it's recommended that you remove the skin before cooking.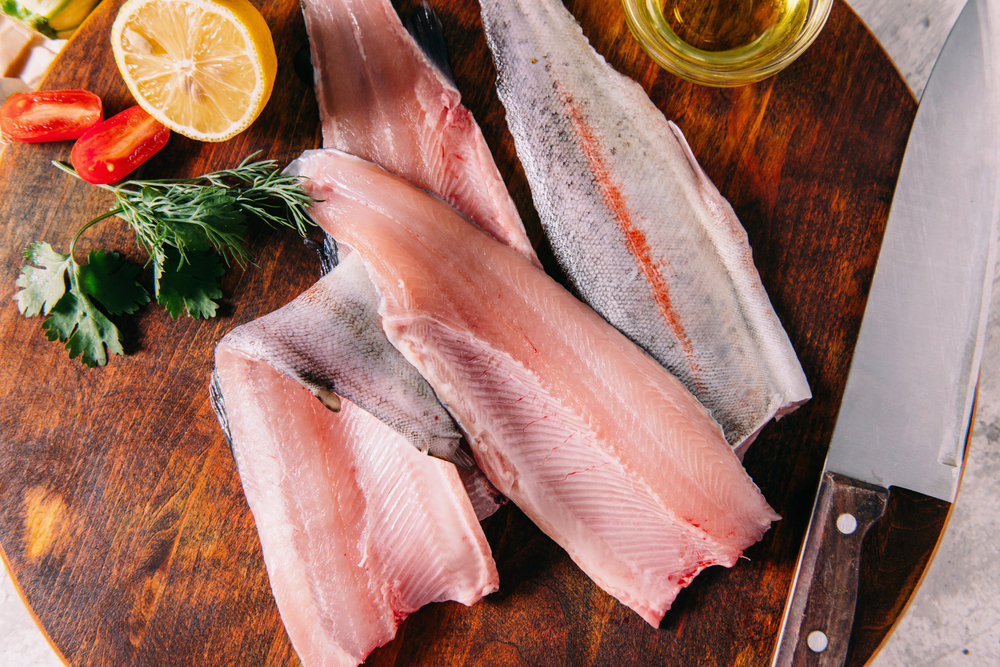 Let's Get to It!
If this is your first time cooking a trout, no need to stress. Below, you will find four recipes utilizing different cooking methods (pan-frying, grilling, baking, and poaching) that are quick, easy, and tasty! This is a great place to start your journey to mastering the cooking of these delectable fish.
Pan-Fried Trout Recipe for Perfectly Crispy Fish
For this delicious pan-fried trout recipe, you'll need: 
2 tablespoons of butter 

4 fresh trout filets

1/4 cup of all-purpose flour 

salt and pepper to taste
Begin by melting the butter in a nonstick skillet over medium heat. Meanwhile, season the flour with the salt and pepper, then coat each filet thoroughly with the flour mixture. When the butter is melted add the trout filets to the pan and sauté for 4 minutes until they are golden brown on one side. Flip them carefully to cook the other side and cook for an additional 3-4 minutes or until they are cooked through. Serve with your favorite sides and enjoy!
Grilled Trout Recipe with Lemon, Butter, and Herbs

 
Grill up a light and healthy meal with this delicious recipe. You'll need:
Four trout

2 Tbsp. of Melted butter

2 tsp. of Freshly minced garlic 

4 Freshly snipped Rosemary sprigs

Freshly squeezed lemon juice to taste

Salt to taste
Marinate the trout filets in butter, garlic, rosemary, and lemon juice before grilling to infuse the fish with flavor and moisture. Serve with garnishes such as herbs or capers for an elegant meal that is sure to impress.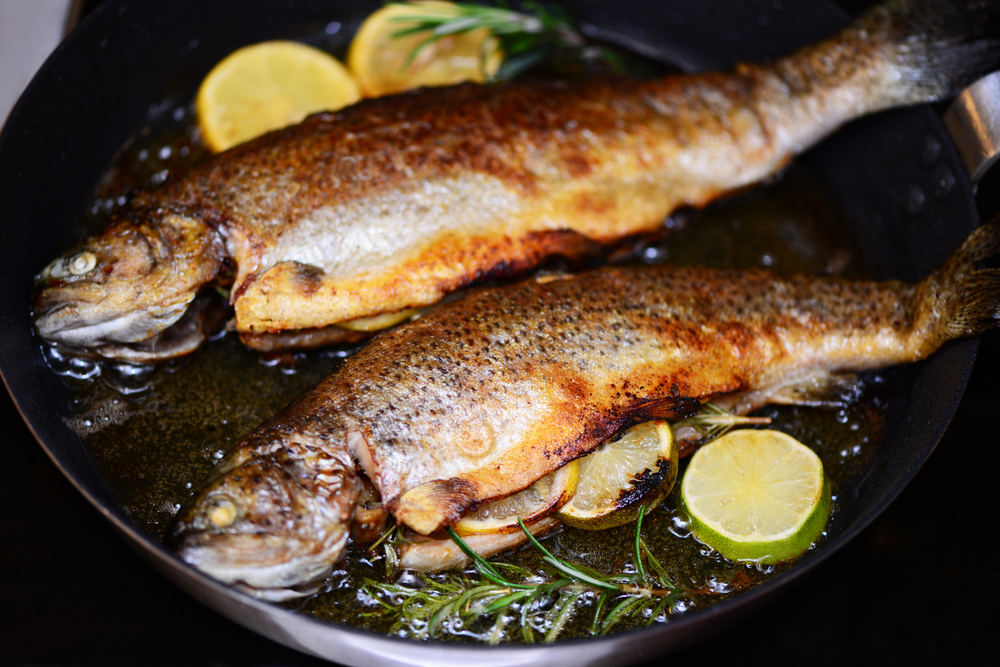 Baked Trout Fillets in Foil – A Delicious and Easy Recipe
This easy foil parcel recipe is perfect for a quick and delicious trout dinner. 
Trout filets

Pats of butter (one per filet)

Lemon juice

Oregano to taste 

Salt and pepper to taste

Aluminum foil cut into pieces large enough to envelop one fish filet.
Preheat the oven to 375 degrees F (190 degrees C). Place a filet of fresh trout in the center of a large piece of aluminum foil. Top with butter, lemon juice, oregano, salt and pepper. Fold up sides of foil to make a sealed pouch. Bake in a preheated oven for 15 minutes or until done. Serve hot.
Poached Trout: How to Make It Perfectly
This poached trout recipe is delicious and easy to make. You'll need: 
4 trout filets 

1 tablespoon of butter 

3 tablespoons of shallots or finely chopped onion 

2 tablespoons of tarragon leaves 

freshly ground pepper, 

a pinch of salt 

enough dry white wine to cover the fish filets. 
Melt the butter in a frying pan over low heat and add the shallots or onion. Cook until softened for about 2 minutes before adding the tarragon leaves and cook for 1-2 minutes longer. Add the trout filets to the pan, season with pepper and salt and pour over enough wine so that it just covers the fish. Simmer gently until cooked through (around 7-10 minutes depending on how thick they are) before serving with freshly boiled potatoes. Enjoy!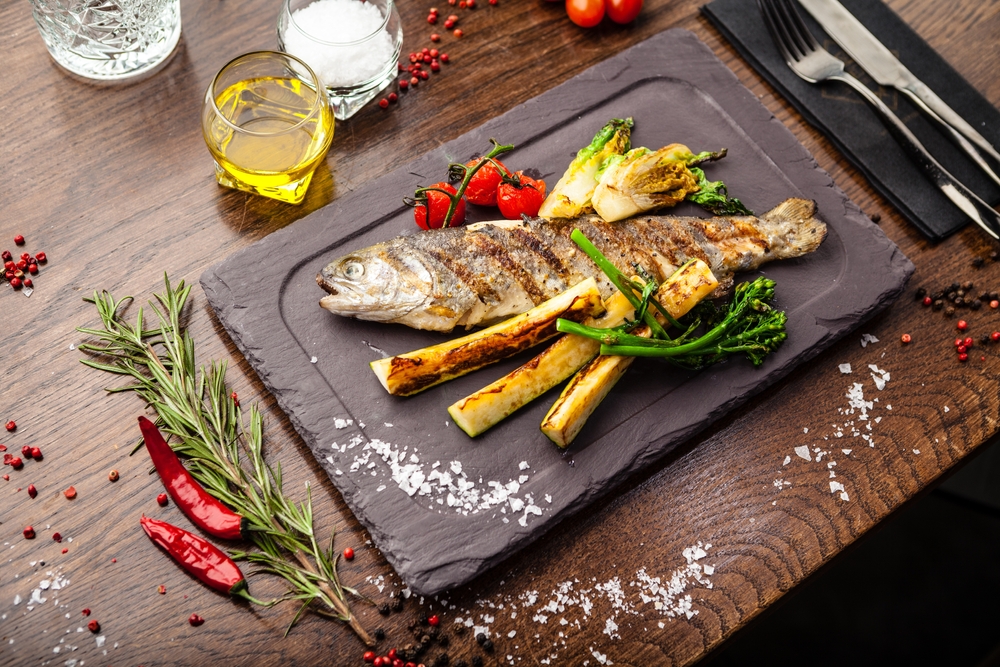 Conclusion
There are endless ways to prepare a fresh-caught or store-bought trout filet. Knowing your personal preferences for flavors and textures, you can find a recipe that will satisfy just about every trout-loving palate. Recipe blogs, websites, online videos, and grandma's dusty old cookbooks are great resources. Do your research, explore different cooking methods and new combinations of spices, and when you've discovered what's the best way to cook trout, then invite your friends over for a feast!